Welcome to the ultimate bachelorette guide, where we unveil the secrets to planning an unforgettable celebration that perfectly suits the bride's preferences! Whether she's an adventurous soul seeking adrenaline-pumping activities, a beach lover yearning for sun-kissed memories, or a nightlife enthusiast ready to dance the night away, we have you covered. Let's dive in and explore the ultimate guide to crafting a bachelorette celebration that your bride will cherish forever. 
Where to stay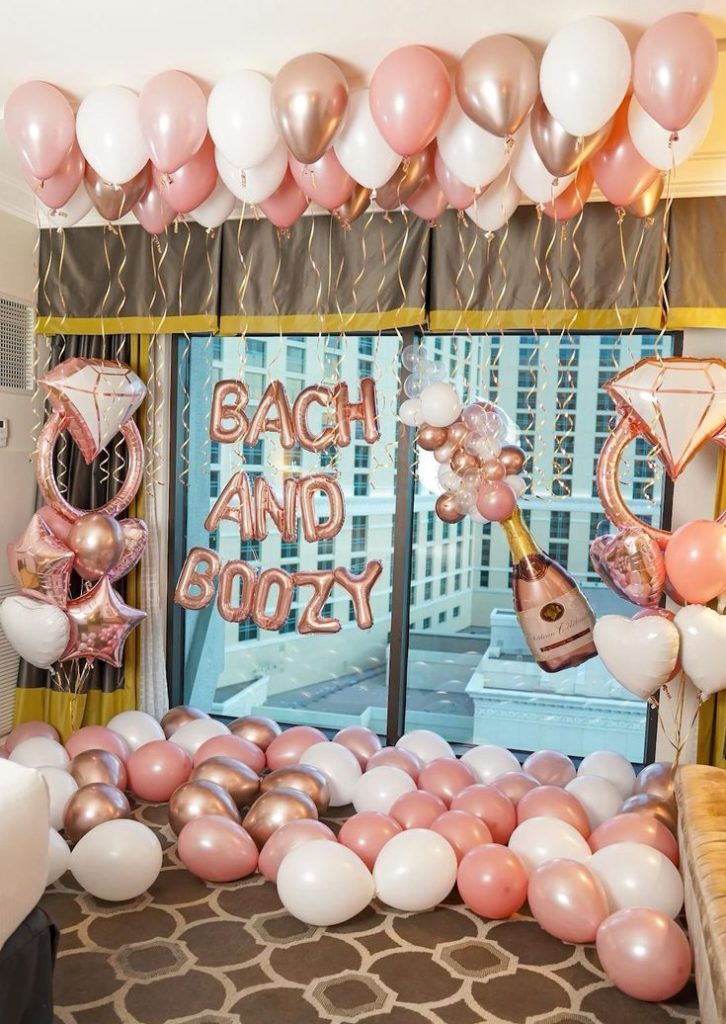 Airbnb v Hotel
Deciding between an airbnb or hotel will largely depend on your location and group size. If you have a smaller group or are visiting a major city then a hotel is the way to go! With a smaller group you won't need as much space and in a major city you'll be spending the majority of your time out and about. If you have a larger group or are staying somewhere more rural then an airbnb would be the safer bet. They can typically accommodate more people at a lower cost and you can get more space to lounge about. 
In some instances the decision is made very easy! For example if you are planning a bach to cabo to lounge on the beach, staying at an all-inclusive resort makes more sense because it'll be more cost effective and will include all food and drinks. Not to mention the beach access and pools available to you! On the flipside, an airbnb would make more sense  if you're planning a bachelorette trip to ski in the mountains, where a ski lodge would be a significantly higher cost for a group. Instead, renting a private home will give your girls more room to spread out and maybe even a private hot tub with mountain views!
Atmosphere
Regardless of where you're staying for the celebrations, you'll want to decorate and have party favors to set the mood of the trip! We highly recommend going to our blog post on Bachelorette Welcome Bags, for the ultimate welcome to your squad! Create a fun backdrop for group pictures with a balloon arch or a custom sign! 
Gear up too with fun items geared towards your bachelorette theme, like sashes for partying at the club, coozies for keeping drinks cold at the beach, or fun matching sunglasses for daytime adventures!  We love this set of bachelorette favors that covers all the bases or check out some of our other faves below.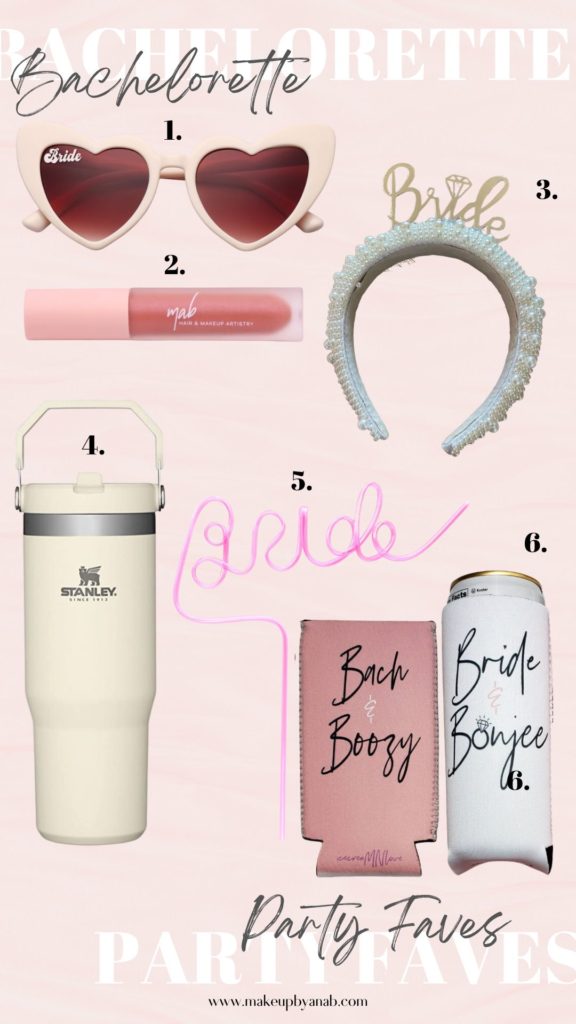 Shop our faves:
one | two | three | four | five | six
What to do
For the adventurous bride who craves excitement and thrills, a bachelorette party filled with heart-pounding adventures is a dream come true. Prepare for an adrenaline-fueled celebration in Colorado, Yosemite, CA or Jackson Hole, WY. Start the day with an exhilarating ziplining excursion, soaring through the treetops and continue the adventure with a hiking expedition to explore hidden waterfalls or breathtaking mountaintops. For snow bunnies, hit the slopes for a skiing or snowboarding adventure, enjoying the rush of the mountains and capture these moments with action-packed photos and videos.. After a day of adventure, unwind with a cozy bonfire or a muscle relaxing hot tub soak. This adventure-themed bachelorette party will create bonds and memories that will last a lifetime, showing the bride that the sky's the limit when it comes to celebrating her upcoming journey into marriage.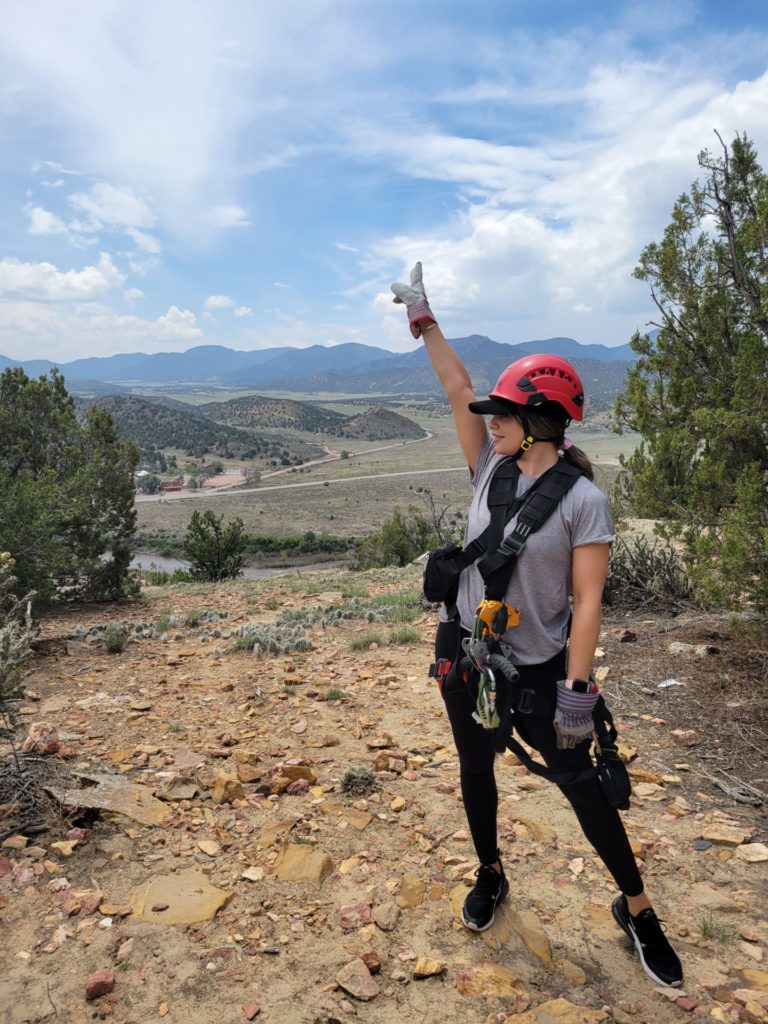 For the bride who finds solace and relaxation by the beach, a bachelorette party centered around sun, sand, and pure bliss is the perfect choice. Embrace the soothing sounds of crashing waves and the warm touch of golden sand beneath your feet in Cabo, Mexico or stateside in Charleston, SC. Start the day with a rejuvenating yoga session on the beach, followed by a leisurely brunch featuring fresh tropical fruits and refreshing mimosas. Lounge in comfortable beach chairs with margs or plan a beach picnic filled with tasty treats and spiked seltzer. As the sun sets, gather around a cozy bonfire, sipping wine and playing bachelorette jeopardy. Whether it's a leisurely beach weekend stateside or flying to paradise with your closest friends, this beach-themed bachelorette celebration will create everlasting memories of tranquility and joy for the bride.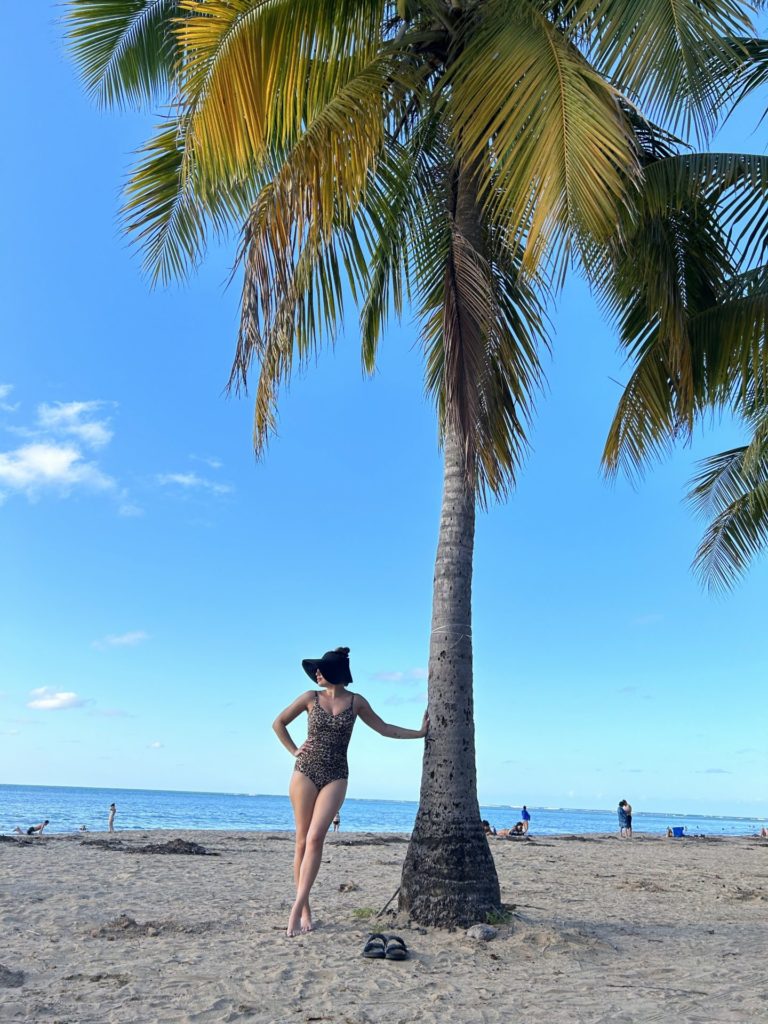 For the bride who loves nightlife, a bachelorette party filled with glitz, glamour, and nonstop fun is in order. Get ready to hit the town and dance the night away in style in Nashville, Vegas, or Miami. Start the evening with a chic cocktail reception at a trendy rooftop bar, sipping on delicious signature drinks and keep the energy high as you head to a lively nightclub, where the squad can let loose on the dance floor. VIP bottle service and a personalized playlist will ensure an unforgettable night of celebration. Get ready for an unforgettable night on the town that the bride will reminisce about for years to come.
Bachelorette Games
What bachelorette party is complete without games? Whether you're going out on the town or staying in your airbnb, there are plenty of games for every type of bachelorette:
1."Bachelorette Scavenger Hunt" – Create a list of fun and adventurous tasks for the bride and squad to complete throughout the night! Include tasks like "getting a stranger's phone number", "taking a group photo with a police officer", or "finding someone with the same name as the groom."
2."How Well Do You Know The Bride?" – Create a quiz about the bride's preferences, habits, likes, and hobbies and have guests answer the questions. Turn it into a drinking game, by every answer you get wrong: take a shot!
3."Bachelorette Dares" – buy these premade scratch off cards to hand out to your squad at the bars and scratch off to learn your dare. Don't want to complete your dare? Then get ready to buy the bride a drink!
4."The Lingerie Game" – Have each guest bring a piece of lingerie for the bride as a gift. The bride has to guess who gave her each piece. If she gets it right the gift giver drinks, if she gets it wrong then she drinks.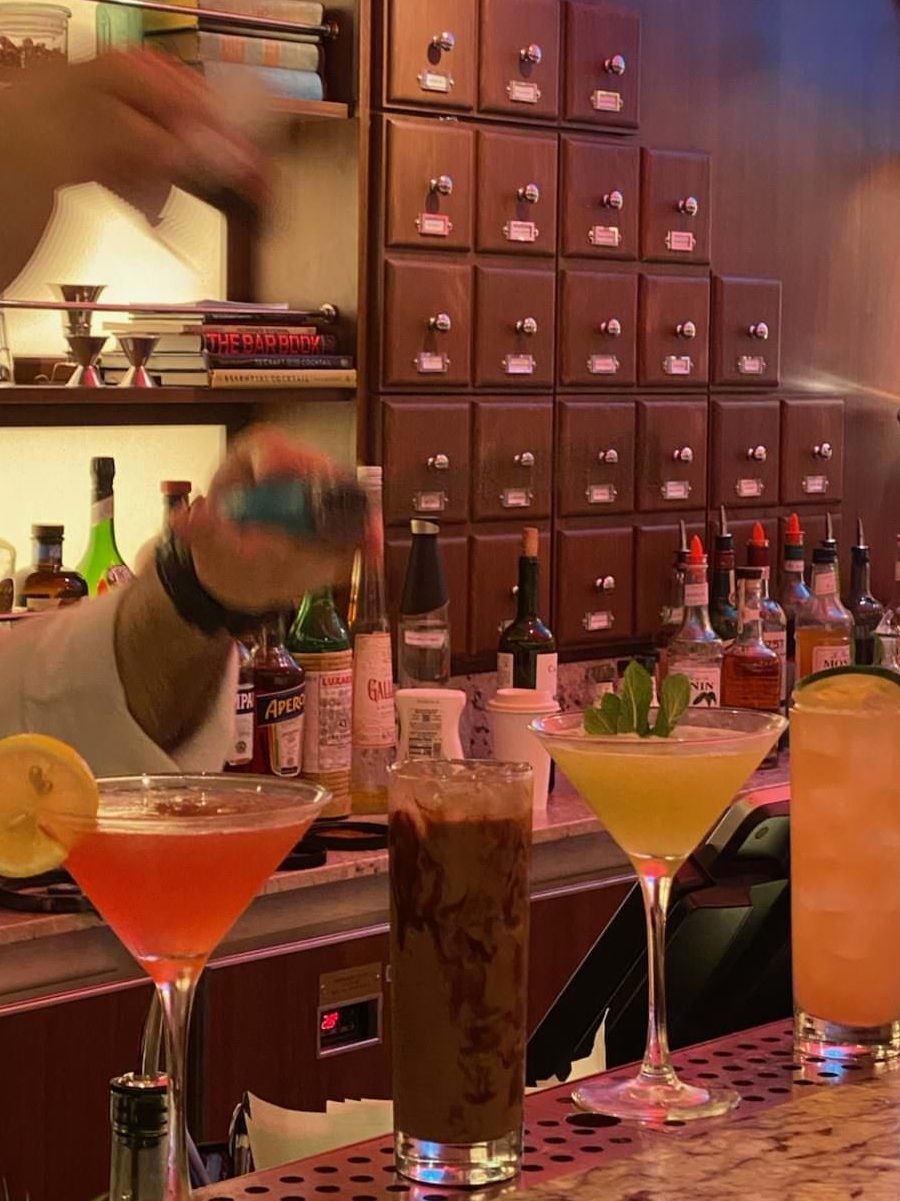 Nothing sets the tune for a bachelorette like having a signature drink for the weekend! We're sharing our favorite drinks that are perfect for your location:

For the Beach Bash
Ana B's Spicy Margarita Recipe:
-1 ½ cups Tequila, Reposado or Blanco
-4 ½ cups Mango Juice
-¾ cup Cointreau or Other Orange Liquor
-Juice of 4 Limes
-3 Jalapenos, slices (to make less spicy: remove some seeds)
-1 tbsp Coarse Sea Salt
-Garnish: Lime & Jalapeno slices
-Optional: Tajin for glass rim
In a large pitcher, add lime juice and jalapeno slices and muddle. Add  tequila, mango juice, cointreau, and salt and stir well. In glasses filled with ice and optional tajin, fill with margarita and garnish with lime and jalapeno slices.


For the Adventure Bach
Ana B's Espresso Martini Recipe:
-2oz Cooled Espresso
-1oz Vodka
-1oz Kahlua
-1oz Baileys
-Garnish: Coffee Beans
In a cocktail shaker, add all the ingredients over ice and shake well. Strain into a chilled martini glass and garnish with 3 espresso beans.

For the Party Girl
Ana B's Classic Cosmo
-4oz Vodka
-2oz Triple Sec
-2oz Cranberry Juice
-1oz Fresh Lime Juice
-Garnish: Lime Wedge

In a cocktail shaker, add all the ingredients over ice and shake well. Strain into a chilled martini glass and garnish with a lime wedge.

As you plan the ultimate bachelorette party for your bride, remember the most important part of the celebration is in the memories you make as friends to last forever. Wherever you pick to host her weekend of fun, with thoughtful planning, creative ideas, and a touch of personalization, you'll create a bachelorette party that will forever hold a special place in the bride's heart. Cheers to an unforgettable event!
---


Want another bachelorette idea that's closer to home in the DMV? Book group makeup lessons for a fun night learning a new makeup look!
---
You might also like