Welcome to the ultimate guide on creating unforgettable bachelorette welcome bags! As the bride's maid of honor or designated party planner, you have the exciting task of curating special goodies that will make the bachelorette weekend even more memorable. From delightful treats to practical essentials, we have curated a list of must-haves that will leave your squad feeling pampered and ready to celebrate.
The Adventure Bach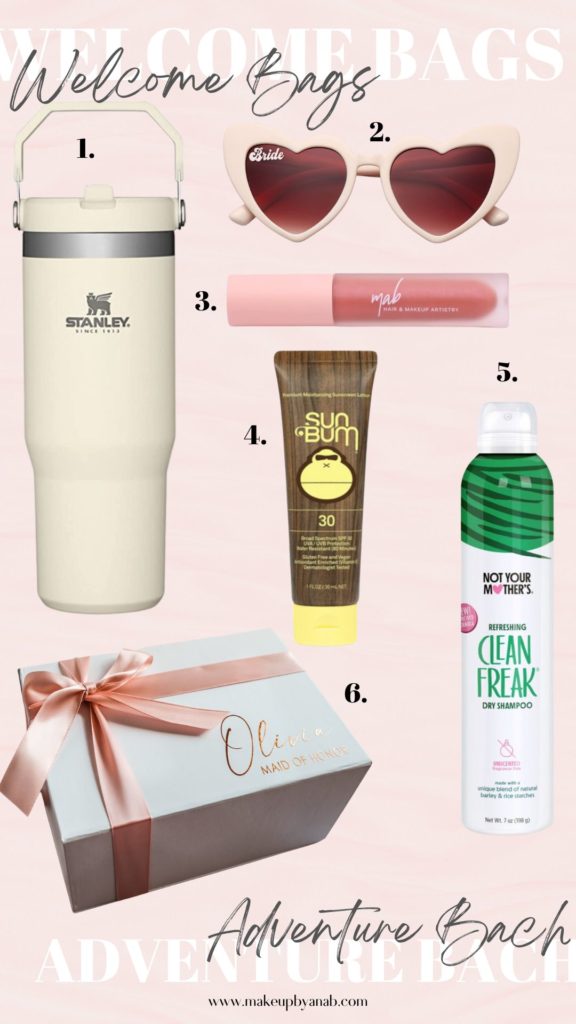 Shop the bag
one | two | three | four | five | six
The bridal faves box is for the bachelorette that craves adventure! From zip-lining to jumping from extreme heights, your squad is going to need things that will keep them hydrated and protected. Using a cute gift box to hold all the essentials like dry shampoo to hide sweat from adventuring before grabbing cocktails, sunscreen and sunglasses for sun protection and a water bottle to keep hydrated. Don't forget to help your girls get ready for an evening out with our MAB Beauty gloss in Darling!
The Beach Bash
Shop the bag:
one | two | three | four | five | six
This bachelorette welcome bag is perfect for welcoming your girls to the beach! A monogrammed woven baskets to hold all the goodies and work as a beach bag is a perfect way to start this bag. Add beach essentials like a turkish beach towel, matching sunglasses, sunscreen, & a water bottle. Finish the bag with our MAB Beauty gloss in Darling to get your squad ready for a relaxing weekend at the beach!
The Party Girl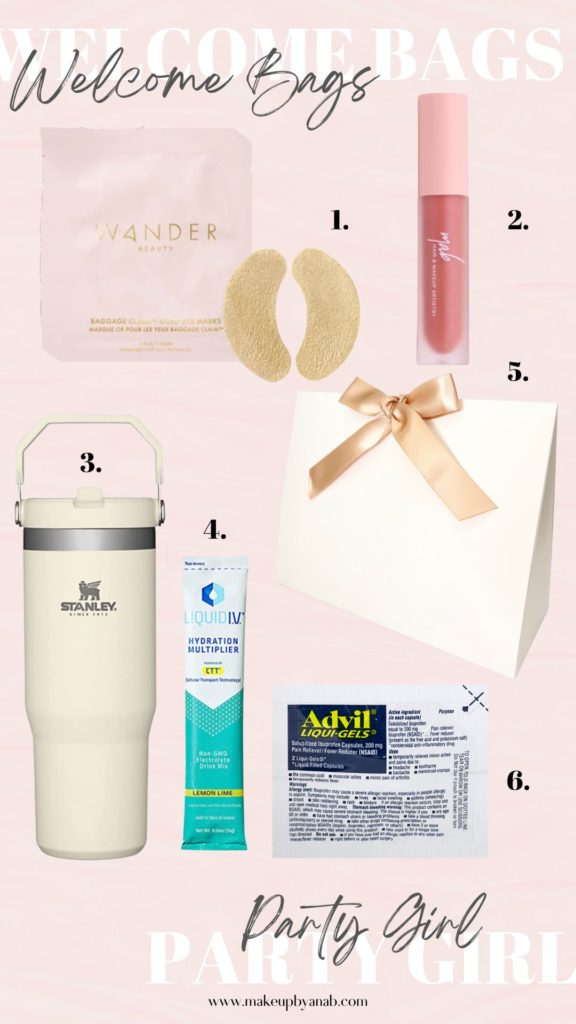 Shop the bag:
one | two | three | four | five | six
Hangover kits are great gifts for you bachelorette party when you know you're going to be partying hard. Fill a cute bag with hangover must haves like liquid IV to keep hydrated, mini advil packs to cure a headache, and eye masks to tackle next day undereye puffiness! Round the bag out with a water bottle to rehydrate and our MAB Beauty gloss in Darling and your girls will be ready for round 2.
---
Looking for an idea of what to do with your bachelorette crew? Book an in-person group makeup lesson to learn a new look for your night out!
---
You might also like