As the summer sun shines bright and the air fills with excitement, it's time to gather your friends and family for a festive 4th of July celebration. Whether you're hosting a backyard barbecue, a poolside bash, or a rooftop soiree, we've got you covered with fabulous ideas to make this 4th of July unforgettable. So grab your favorite red, white, and blue attire and dive into our ultimate guide for an unforgettable 4th of July celebration that will have everyone talking long after the fireworks fade away!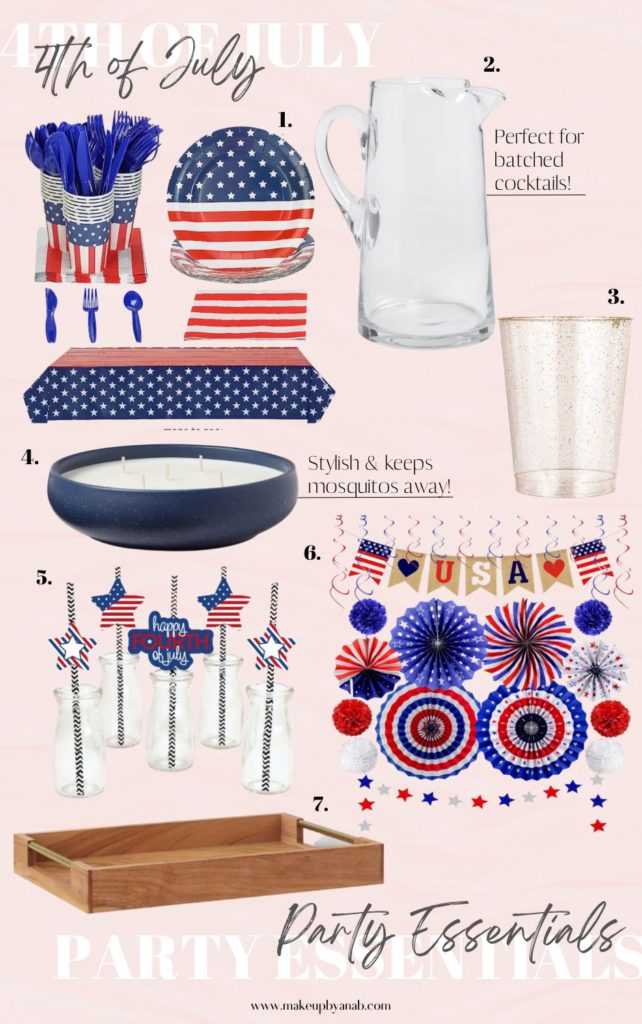 Shop the essentials:
one | two | three | four
five | six | seven
Decorations don't have to be elaborate and dinner doesn't have to be served on your fine china. Instead use this disposable plate and cutlery set and decoration bundle to make setup and cleanup a breeze. Bump up the ambiance with these 5-wick candles that are cute and also function as mosquito repellant! Charcuterie or snacks will look great on this wooden serving tray and batch my spicy marg recipe in this glass pitcher. Pour out those drinks into these glittery cups and top them with a patriotic straw.
More 4th of July Party Ideas
Use your new pitcher to create my favorite spicy margaritas! These cold beverages hit all the right notes for summer with a little sweet and spice, and a lot of cool and refreshing.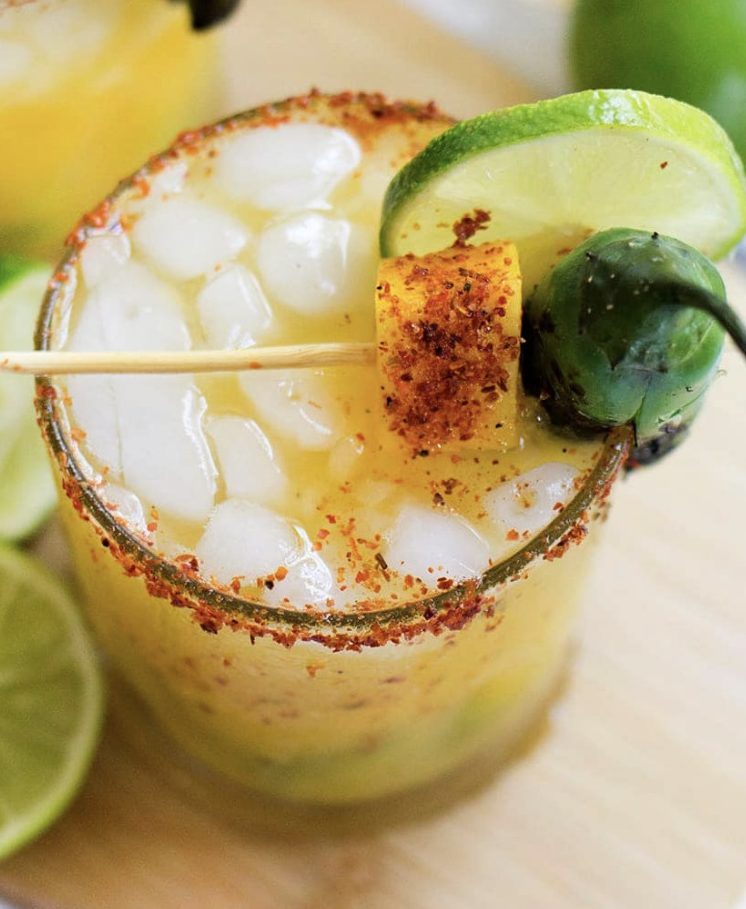 Ana B's Spicy Margarita Recipe:
-1 ½ cups Tequila, Reposado or Blanco
-4 ½ cups Mango Juice
-¾ cup Cointreau or Other Orange Liquor
-Juice of 4 Limes
-3 Jalapenos, slices (to make less spicy: remove some seeds)
-1 tbsp Coarse Sea Salt
-Garnish: Lime & Jalapeno slices
-Optional: Tajin for glass rim
In a large pitcher, add lime juice and jalapeno slices and muddle. Add  tequila, mango juice, cointreau, and salt and stir well. In glasses filled with ice and optional tajin, fill with margarita and garnish with lime and jalapeno slices.
Optional: Make your margs look even fancier by dehydrating sliced limes! In a large cookie sheet with a cooling rack inside, line with thinly sliced limes. Bake in the oven at 150 degrees for 2-3 hours, turning at the 1 hour mark.
Tasty Bites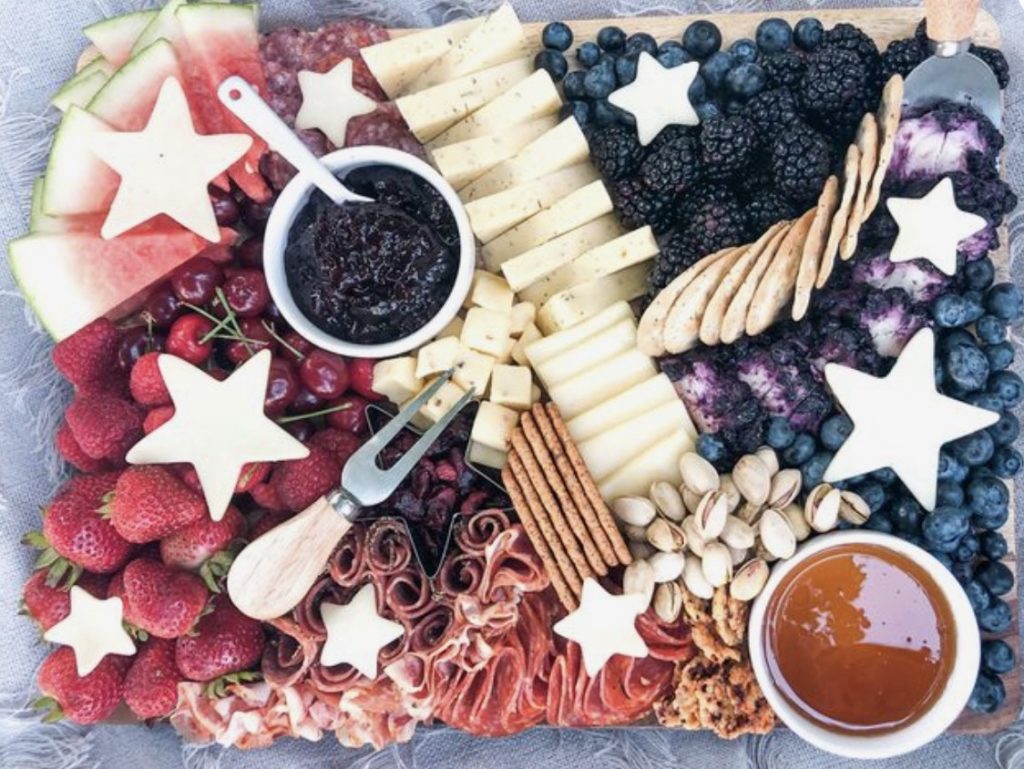 A Patriotic Charcuterie Board:
Everyone loves a charcuterie board or grazing table! Make your own that'll wow your guests using the chart below to create a patriotic themed charcuterie board.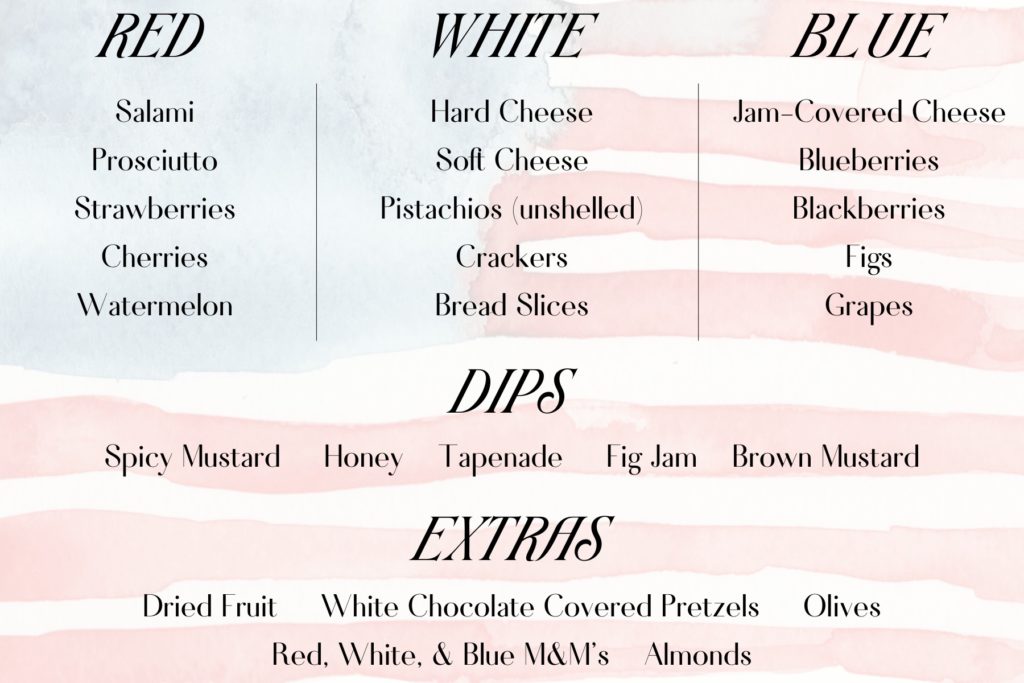 Make it extra patriotic by taking provolone or white cheddar cheese slices and using different sized star cookie cutters to create stars to put on top of the board!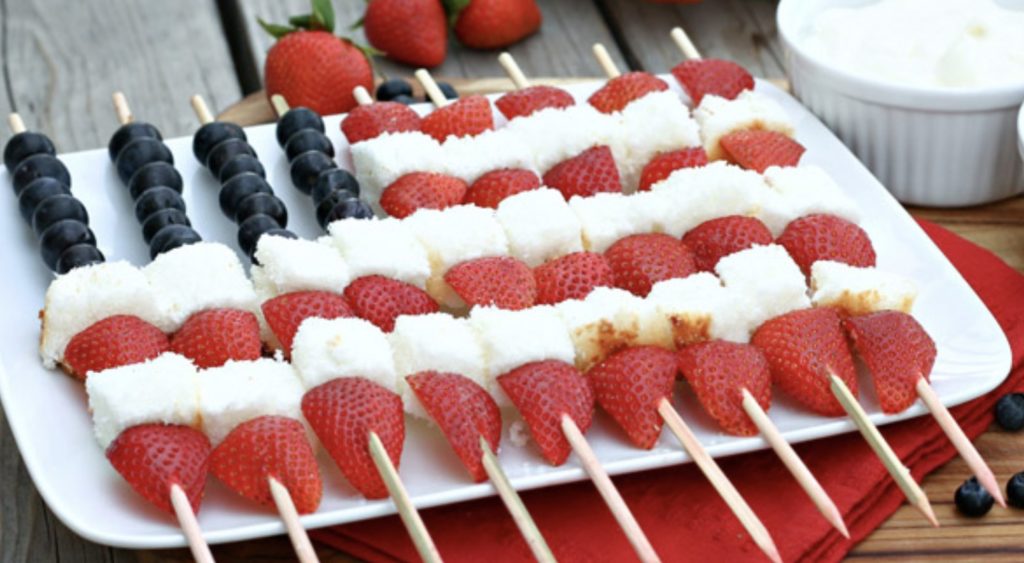 Patriotic Skewers:
-1 Loaf Pound Cake, cut into 1" squares
-1 pint strawberries, quartered or halved
-1 pint blueberries
-wooden skewers
-honey for drizzling
-fruit dip, cream cheese or chocolate
On wooden skewers, alternate the cut up strawberry, blueberries, and pound cake until you've used all the ingredients. Drizzle with honey and serve with fruit dips!
To make an American Flag: On 4 skewers, thread 5-6 blueberries, then follow with a piece of pound cake and alternate with strawberries on the rest of the skewers. On the remaining skewers, alternate pound cake and strawberry, trying to keep them lined up to mimic flag stripes.
4th of July Fashion
Don't forget a cute outfit for you! You'll get all the compliments in this cute dress from Mod&Soul: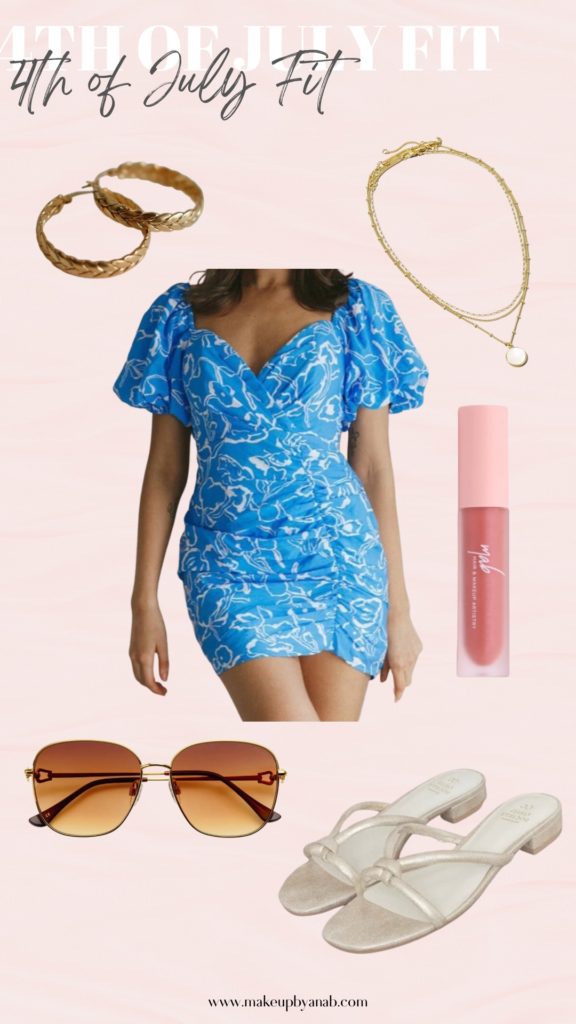 Shop the look:
Dress | Earrings | Necklace | Sandals
Sunglasses | MAB Beauty Gloss
---
From myself and the MAB Artistry Team to your family, we hope you have a wonderful and safe 4th of July holiday!
Xo, Ana B.
---
You might also like