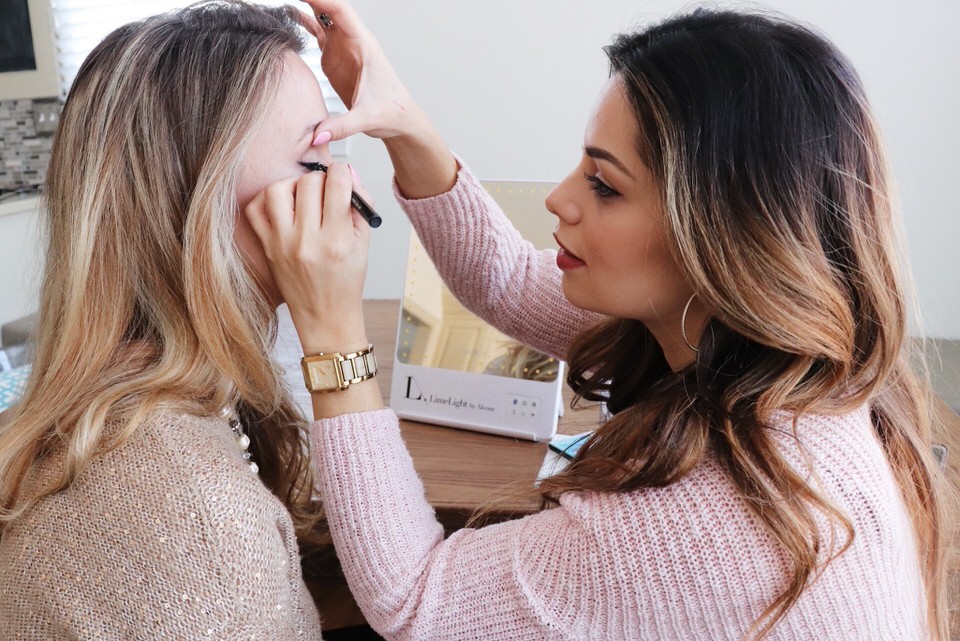 Is makeup your hidden passion but you don't know where or how to get started? Are you wanting to make the leap into the beauty industry, but have no professional experience? I definitely remember my aspiring artist days so I can totally relate! I've put together five ways you can become a Pro Makeup Artist, starting with the one that lead me to a career in makeup.
1. WORK FOR A MAKEUP BRAND
I was lucky enough to get a job for MAC Cosmetics at the mall without having any prior training in makeup. Before applying, I had watched many tutorials on YouTube and had gained decent skills by practicing on myself and friends. I also had some retail and customer service experience which helped me sell myself during my interviews.
Pros: I received makeup training while getting paid! I was able to build my makeup kit using my employee discount, became excellent at customer service and learned how to do makeup on all types of skin tones and learn specific skills, like foundation matching and false lash application.
Cons: Retail is tough for moms! Working weekends is a must when you work at a cosmetics counter or store, and sometimes you don't get home until 10 PM! I didn't have a lot of flexibility with my schedule so after one year of working as a retail makeup artist, I left to pursue a freelance career (which was the best decision of my life!).
2. GO TO A MAKEUP SCHOOL
A makeup school will provide hands on training and teach you fundamentals of color matching and makeup application. Depending on the school, you can learn more in depth on specific areas of the makeup industry such as special FX, editorial makeup and bridal.
Pros: Schools provide a basic kit, connections to other aspiring artists and industry pros, and in person training where you can ask questions and receive immediate feedback from instructors.
Cons: Most makeup schools will have a set schedule and require a significant monetary investment.
3. TAKE AN ONLINE MAKEUP COURSE
Online schools are very convenient for people who work a full time job, are busy parents and really need to learn at their own pace and time.
Pros: You can complete courses on your own schedule and the tuition is more affordable than traditional schools. A kit and brushes are often included in tuition.
Cons: Even though online courses offer tutors who review your work, you are missing the in-person feedback from actual instructors and clients.
4. SELF TEACH
With the incredible amount of free tutorials given by professional and celebrity artists through YouTube and social media, you can learn and practice on your own without ever attending a formal school. There is no one stopping you from practicing on your friends and family, and working for free while you build your portfolio and experience.
Pros: Your education is free, and if you prove you are talented, persistent and dedicated to your craft, you will eventually begin to get paid work.
Cons: You are competing with artists who have formal training and experience. Certain types of clients will only work with artists that have completed formal training and have extensive professional portfolios, for example corporate and commercial clients.
5. INTERN FOR A PRO MAKEUP ARTIST
Assisting or working under a pro makeup artist is the best type of learning you will ever experience because it is real life! You'll get to learn how the artist applies product on their clients first hand and see how the artist handles client interactions, which is a huge part of the job!
Pros: You get to witness real time interaction and artistry. You can possibly gain clients and work eventually through your connections.
Cons: You will get paid little to nothing until you are able to provide value to the artist or clients.
There you have it! Five ways to get your foot in the beauty door…all you need to do is start knocking! Every artist starts their journey as a beginner…you CAN achieve your makeup artistry dreams one step at a time!
We are currently putting together an intensive three day makeup training program for beginners and aspiring artists in the DMV area! If you are interested in attending, send us an email at [email protected] and you will be the first to know when our program launches!
Love,
Ana B
---
You might also like