We're starting off September with a MAB Wedding Highlight that takes us away to destination bliss. MAB Bride Tiffanie and groom Mark designed an elegant wedding in Greece, dancing the night away with their loved ones.
What made you decide on a destination wedding? How did you pick your venue?
Deciding on a destination wedding was influenced by Covid-19 and difficulty finding a United States venue that met all our needs. We looked up a lot of different venues in various countries. The two that we were between were in Greece and Spain. The Spain venue had never hosted a wedding before, so we went to Amanzoe in Greece to see if it was as beautiful in person. It was more than beautiful, and I finally had the "aha moment" of knowing exactly where I wanted to get married (on their beach).
Was it difficult finding/deciding on local vendors?
My wedding planner Anna Sourbati of Event Co did a phenomenal job with recommendations of local vendors. It was not hard to decide on them, because she was so knowledgeable and knew exactly what was needed. The only difficulty sometimes was the language barrier, and Anna helped with that.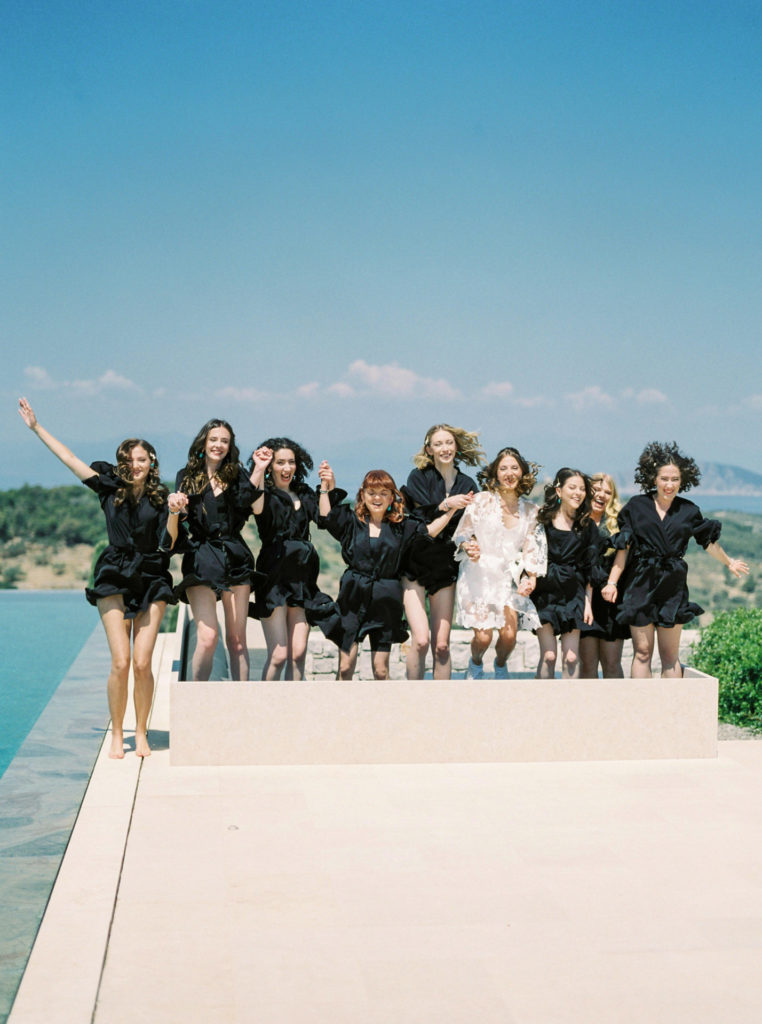 What was the best part of planning a destination wedding?
The best part of planning a destination wedding was traveling there and soaking in the gorgeous scenery. Tasting the local food and beverage was also really fun. I also really enjoyed getting to know my wedding planner more. Bonding over our shared love of astrology was wonderful. It was really fun to brainstorm all of our favorite things, from our favorite music preferences to food, dress codes, and twinkly lights.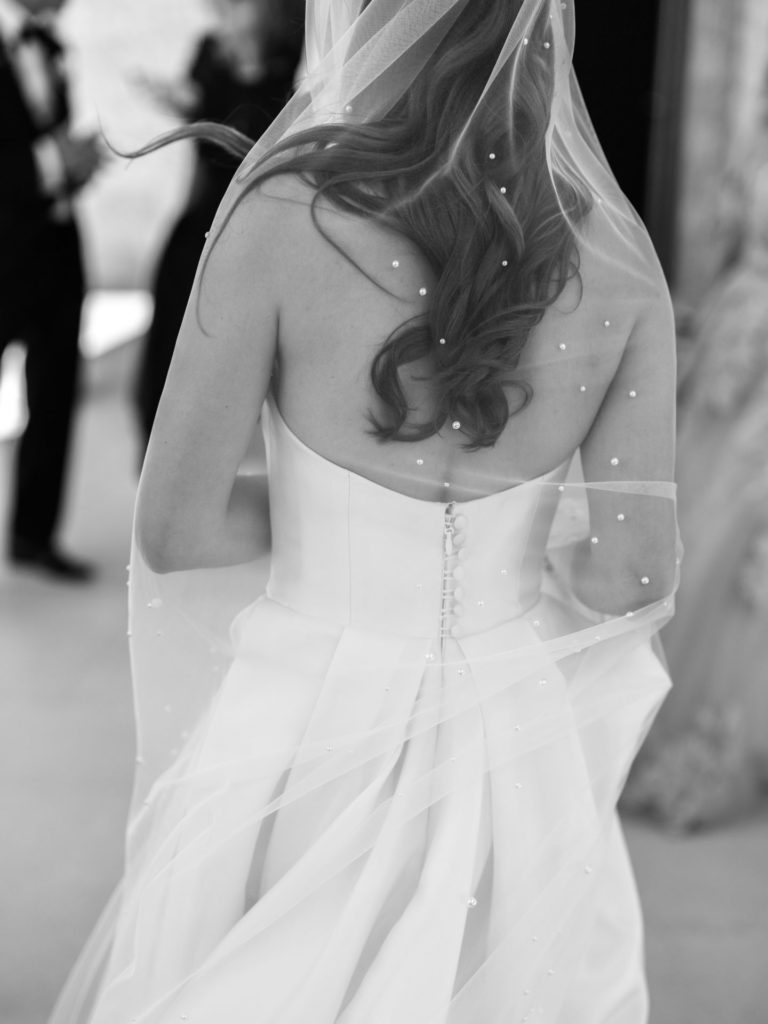 What was the hardest part?
The hardest part was finding a henna artist for my special Moroccan henna in honor of my late grandmother Arlette. I wanted to find someone who could write Hebrew and also knew how to do lavender designs and hamsa designs as well as all of the other elements that I wanted to include like hearts and traditional Moroccan patterns.. It took at least seven interviews, a ton of emails and calls, and Instagram DMs to find the perfect person. Toni Bluestone. She created the most gorgeous design ever, and it was so special. I got to wear my grandma's Hebrew name Simha on me for my wedding day.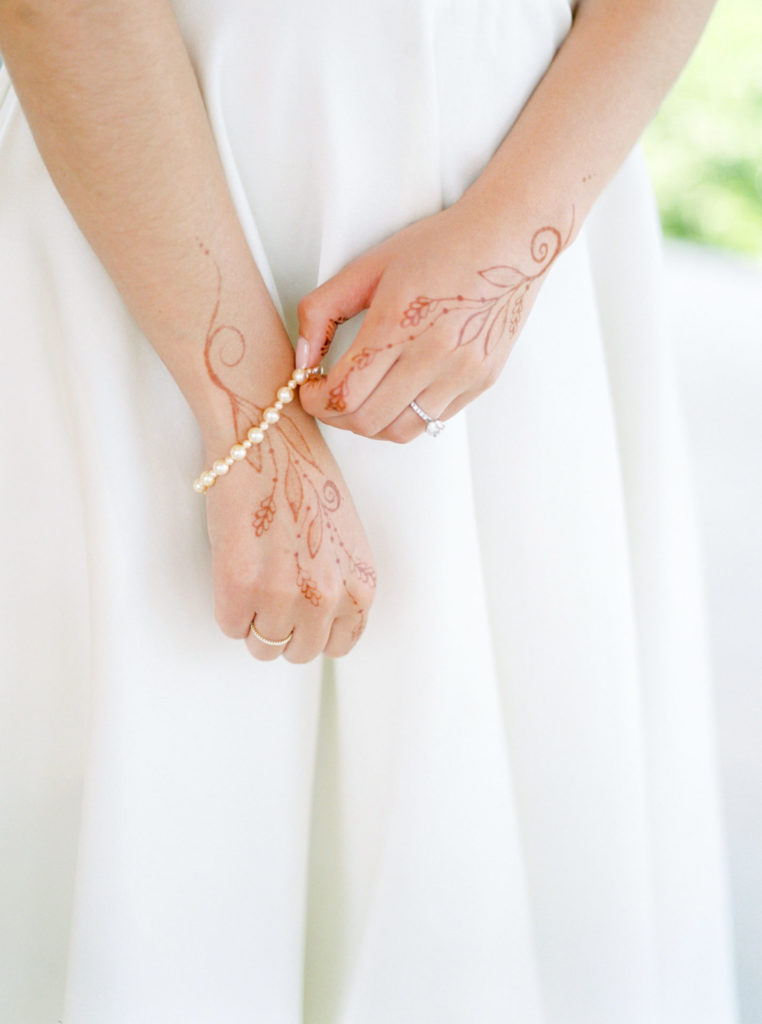 If you can pick one, what was your favorite moment from your wedding day?
One of my favorite moments from my wedding day was our first dance. We practiced it for months and months, so finally being able to perform it together and have so much fun in front of our families and friends was so special. If I could pick more than one moment, it would also be hearing my husband's vows. One of my favorite parts of his vows is "I vow to grow old with you, and let our skin weather from a life of adventure, perseverance, and a million smiles shared together", as well as "I vow to love and cherish you every minute of every day, and not let a sun set or rise without reflecting on the divine beauty of your being and soul" .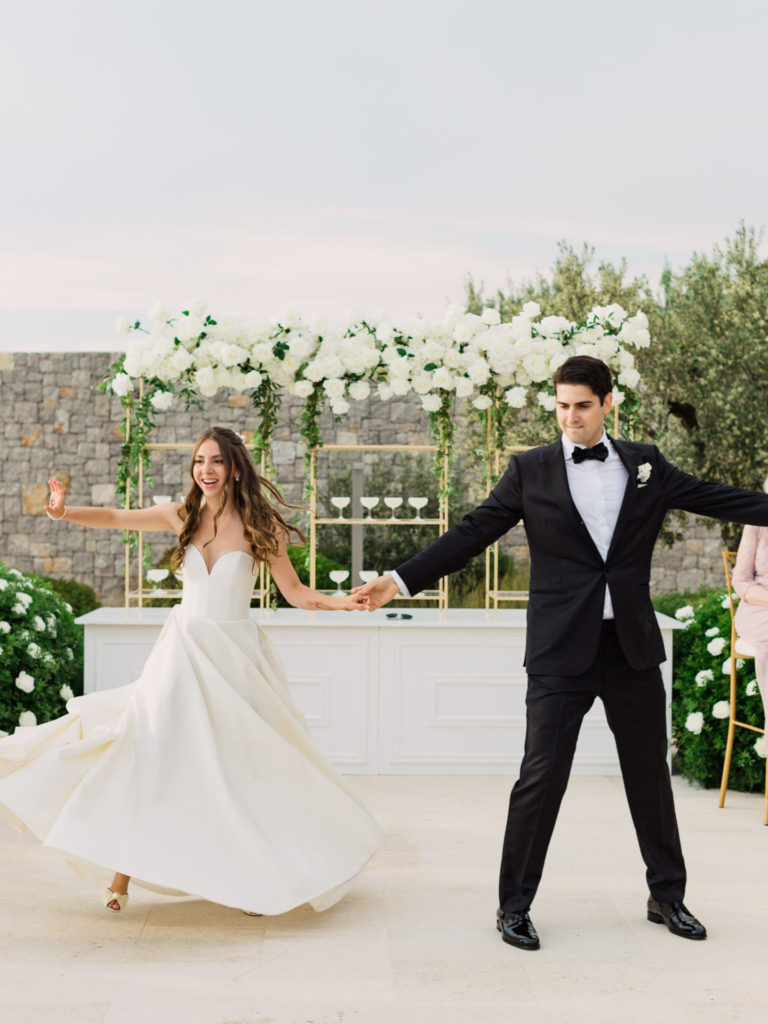 What is one thing you couldn't do without at your wedding? From planning, a special feature at your wedding, or while getting ready?
One thing I couldn't do without at my wedding was probably music. From the fun getting ready music, to the dance floor music and walking down the aisle music, I think it really sets the tone and makes everything more fun.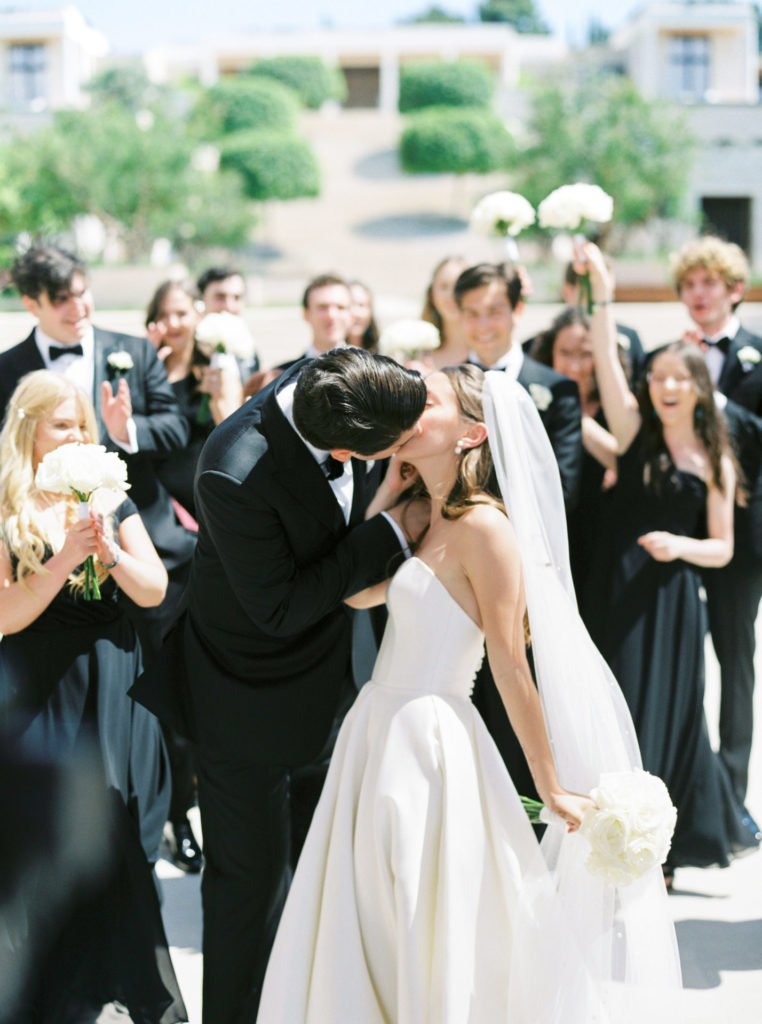 What made you choose Makeup By Ana B/MAB Artistry to be your HMU team?
I chose Makeup By Ana B because we have had an artist/client relationship together for a long time. I am so happy that I had Ana B as my HMU team. I felt so beautiful and so glamorous on my wedding day and the three days leading up to it.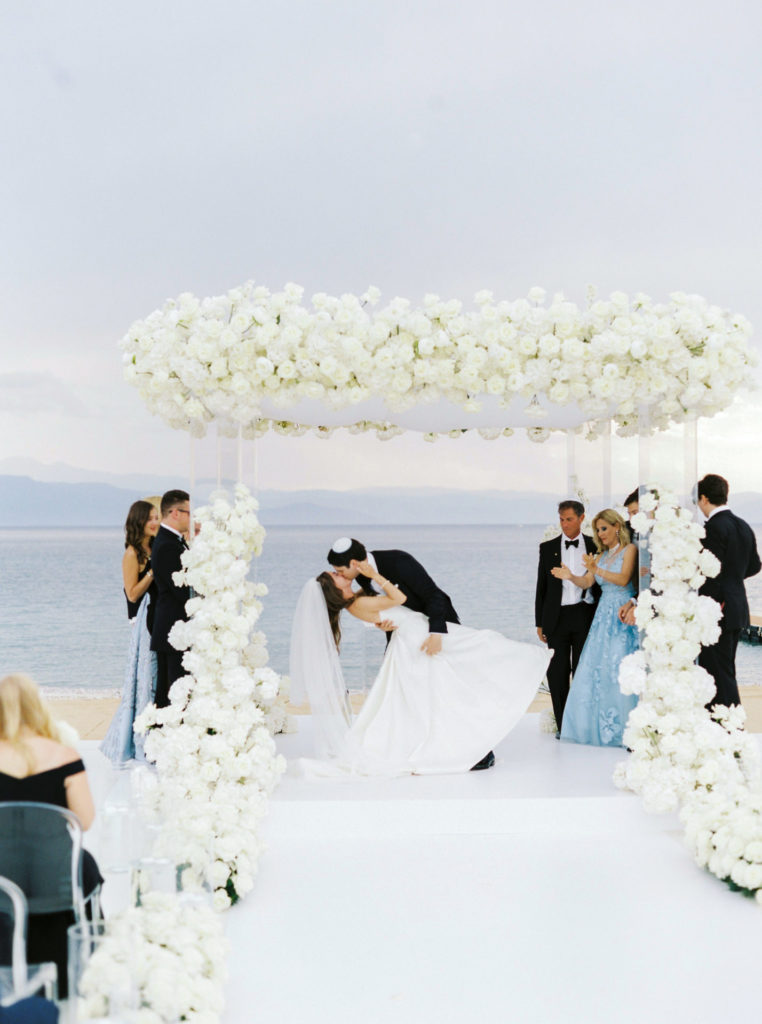 What advice do you have for other brides?
If the person that you really want is booked, ask that person for recommendations of people who do similar work to them. This is how I found my videographer and how I found my henna artist. Sometimes you might even end up with someone better than the other person who gave you the recommendation.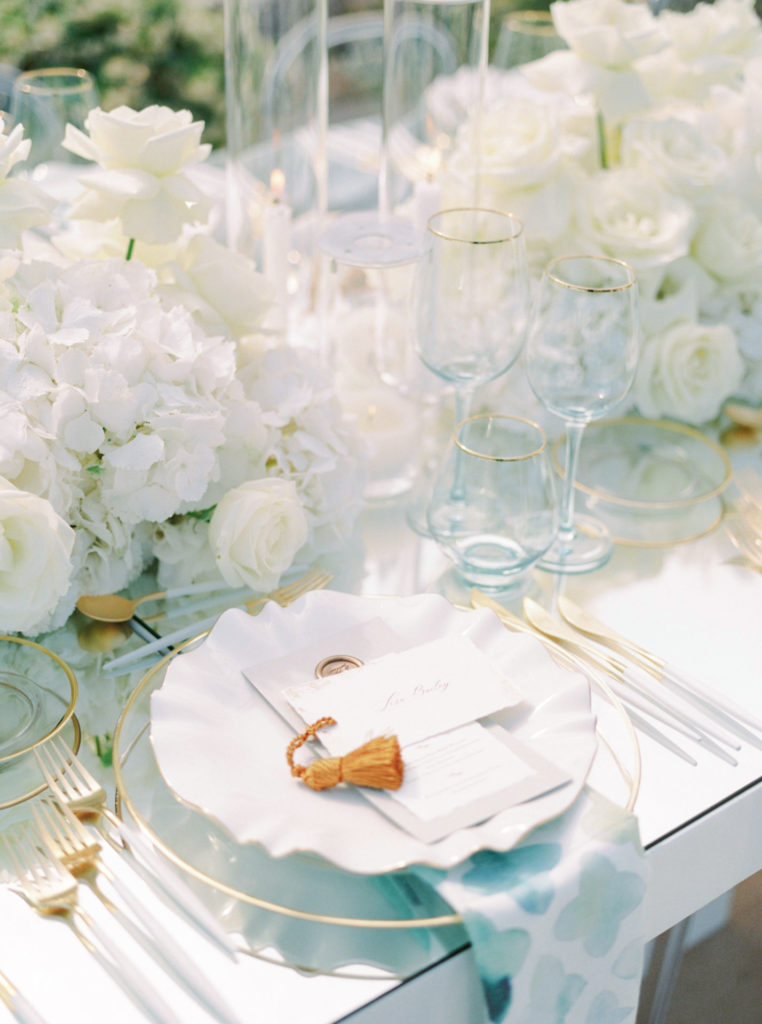 WHH, Whatever Happens Happens. It seems a little hard to keep that in mind during the process, but it will definitely make things less stressful. 99% of the things that you worry about before the big day will all go out the window. You forget all about it and just enjoy the moment. They say it goes by fast, and it really, really does.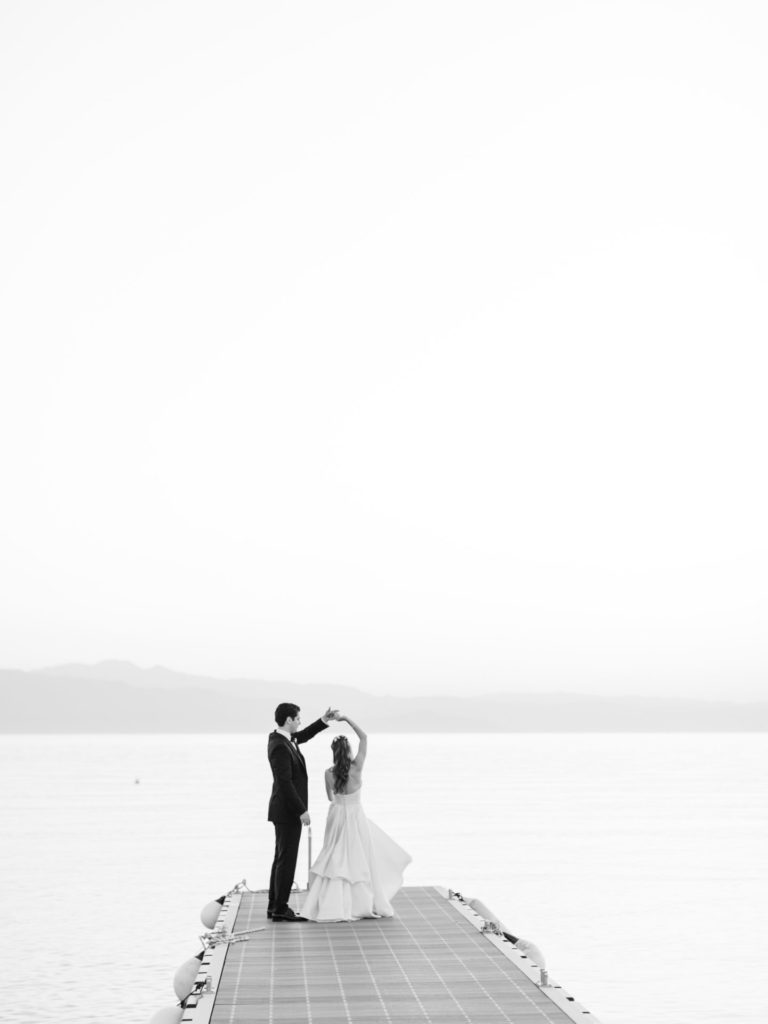 You will be in the hair and makeup chair a lot, so stick with someone that you love and trust.
Take a few minutes after your ceremony to soak in being husband and wife. If you want to practice your first dance in your wedding dress, I recommend doing that too for a little. Have a little food, sip some champagne, do whatever you need to do before you go see your family and friends.
Tiffanie & Mark's Vendor List:
Photography | Lilli Kad Photography
Videography | Marco Caputo Films
Design & Planning | The Event Co
Floral Design | Studio 7 Flowers
Venue | Amanzoe
Music & Lighting | Music Essentials
Rentals | StyleBox Premium Event Rentals
Art De La Table | White Lilac Rentals
Prints & Stationary | Atelier Invitations
Cocktails | Drink Your Selfie
Marble Works | Marbellous
Favors | Marie Fleurs Florals And Gifts
Bridal Gown | Lihi Hod Bridal
Hair & Makeup: Makeup By Ana B of MAB Artistry
Henna Tattoo | Toni Tattoo
Band | Inspiration
Fireworks | Nanos Fireworks
Guest Gifts | Sisley Paris & Kimisoo
Wedding Cake | Pavlov's Lab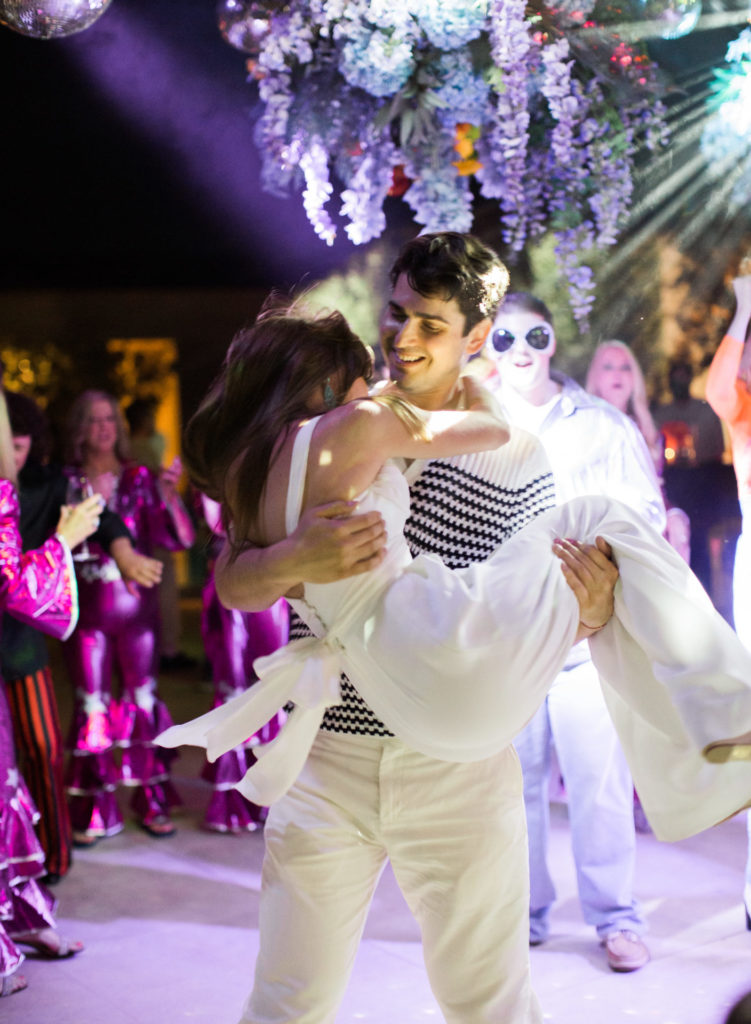 ---
You might also like