As the leaves turn golden and the air grows crisp, I've curated a reading list that's perfect for snuggling up with on those chilly fall days. From heartwarming romances to spine-tingling thrillers, these books will take you on an adventure from the comfort of your favorite reading spot. So grab your coziest blanket and a warm cup of tea and discover the next book you're adding to your TBR list!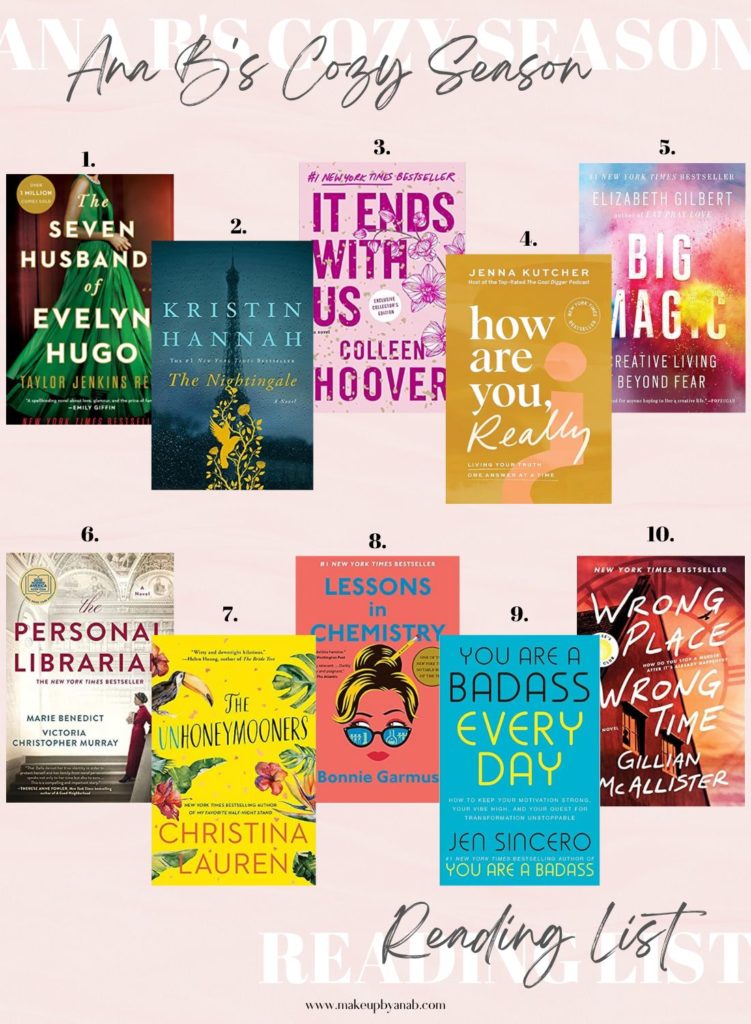 Shop the books:
one | two | three | four | five
six | seven | eight | nine | ten
1.Step into the glamour of Old Hollywood and follow Evelyn Hugo's mesmerizing journey through fame, love, and secrets in 'The Seven Husbands of Evelyn Hugo'—a tale that will sweep you off your feet and leave you breathless.
2.In this harrowing yet inspiring world of two sisters in Nazi-occupied France, 'The Nightingale' weaves an unforgettable tale of courage, sacrifice, and the unbreakable bond of love.
3.Dive into 'It Ends with Us,' a powerful story that explores love, resilience, and the complexities of relationships, that will make it hard to put down as you want to know what happens next.
4.Add 'How Are You Really' by Jenna Kutcher to your reading list for a dose of real talk, inspiring insights, and practical advice that will guide you to embrace your true self and create a life you love.
5. Embrace your innate artistic spirit with 'Big Magic,' a captivating journey into the world of creativity, where Elizabeth Gilbert inspires you to live a life driven by curiosity and passion.
6.Unlock the pages of 'The Personal Librarian' and get ready to embark on a journey through history, and the extraordinary life of a woman who dared to defy the odds.
7.'The Unhoneymooners' is a hilarious and heartwarming enemies-to-lovers adventure that will leave you believing in second chances and tropical paradise.
8.Add 'Lessons in Chemistry' to your "To Be Read" list for a humorous  and inspiring tale of a brilliant woman determined to break the glass ceiling.
9.Put 'You Are a Badass Every Day' by Jen Sincero on your reading list to discover daily doses of inspiration, motivation, and practical wisdom that will empower you to conquer challenges and live your most badass life.
10.Discover 'Wrong Place Wrong Time,' a gripping real-life thriller that will keep you on the edge of your seat, proving that sometimes truth is stranger than fiction.
---
If you're looking for more literary escapes, be sure to explore my Summer Reading List for a diverse range of stories that can transport you to different worlds all year round. Happy reading!
Xo, Ana
---
You might also like