The long hot days of summer bring some much needed downtime and an invitation to read more books, my favorite pastime. This year I am including some amazing reads, including the gripping suspense of "Verity", the sun-soaked romance of "One Italian Summer" and the inspiring story of "The Henna Artist". My summer reading list has something for every book lover. So, grab your favorite iced beverage, find a cozy spot, and prepare to be whisked away on a literary journey that will make this summer truly memorable.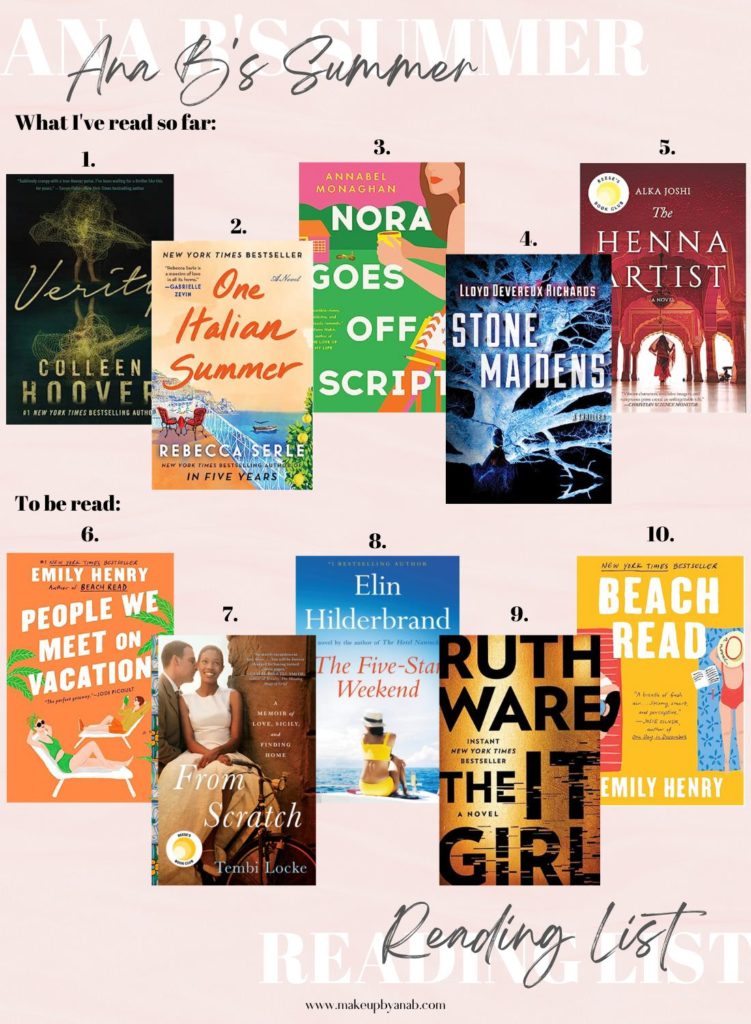 Shop my list:
one | two | three | four | five
six | seven | eight | nine | ten
My Read List
-If you're looking for a book this summer that's filled with suspense and thrills, Verity and Stones Maidens are must reads. Verity has twists galore that leave you unsure if you know what's real and Stone Maidens is the viral TikTok thriller that does not disappoint!
-For an easy summer read, Nora Goes Off Script is a quick read on love, second chances, and the importance of family. Perfect for a light read on the beach!
-If you're looking for a more heartfelt and semi-sweet read then add One Italian Summer to your beach bag! One Italian Summer pulls at the heart-strings as it takes you on a magical trip to the Amalfi Coast with a little supernatural twist of past meets present.
–The Henna Artist was a book I inhaled during my trip to Italy. Seriously, I finished it in two days! From start to finish this book was captivating as it followed a young woman's journey to find fulfillment in a society where the odds were stacked against her.
My To Be Read List
-I watched the memoir From Scratch on Netflix and now I absolutely have to read the book for the bits that weren't shared in the show. This gut-wrenching true story makes you laugh and cry, and most of all appreciate the ones you love. I can't wait to travel to Sicily this fall!
-Erin Hilderbrand made my list last summer with Hotel Nantucket and this year I'm looking forward to reading The Five Star Weekend! This book focuses on four friends in different stages of life, friendship, self-discovery and love.
-I'm so excited to add these two Emily Henry books to my list. Light and easy summer reads that are perfect by the pool and have summer themes, People We Meet On Vacation, which made it into my bag for Italy, and Beach Read are cute summer romances dealing with friends to lovers and enemies to lovers.
-I love suspenseful books that make you think and I'm also partial to books recommended by Reese's Book Club, which is how The It Girl ended up on my list. This book promises twists and suspense as the main character tries to find out the truth behind her friend's murder.
XO, Ana B
---
Want more book recommendations? Check out my reading list from summer 2022!
---
You might also like