Traveling for a wedding as a hair and makeup artist is both exciting and stressful as you want to make sure to pack your kit securely and carry everything you need just in case. To help make your life easier, Ana B. put together all your must haves for traveling with your pro kit to take away the stress! Read on for her essentials and tips!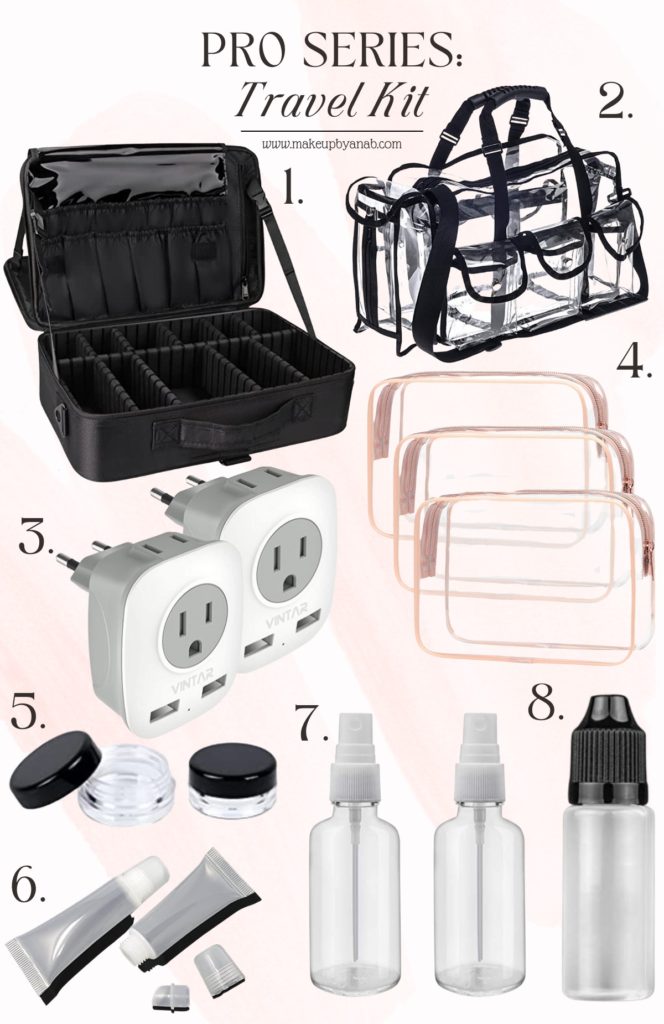 Shop the travel kit:
one | two | three | four
five | six | seven | eight
I typically carry three bags; the larger makeup relavel bag, a suitcase with my hair kit, and a personal carry on. I prefer to check my hair bag and carry on my makeup bag as I like to keep it in sight at all times so it's not thrown around. Here are a few of my favorite tips that make traveling easier as a beauty artist:
Transfer all large hair products to checked in suitcases. You can buy travel/mini versions of the sprays for your carry-on as an emergency option and/or touch ups.

Separate products into plastic zipper containers as much as possible in case of spill, it won't go everywhere.

Transfer large foundations to smaller plastic bottles/containers or makeup pods.

Bring converters for your hair products and make sure they work in the country you are traveling to. I have this European one!

I don't carry my blow dryer to Europe as most hotels and venues have one in the room and American blow dryers are too powerful and will "blow out" – no pun intended.
---
You might also like