We are so excited for our upcoming MAB Academy class: Bridal Makeup with Shirin. It's our first class with a guest instructor, so we're helping you get to know Shirin a little better before she teaches you her amazing tips and tricks for lasting bridal beauty.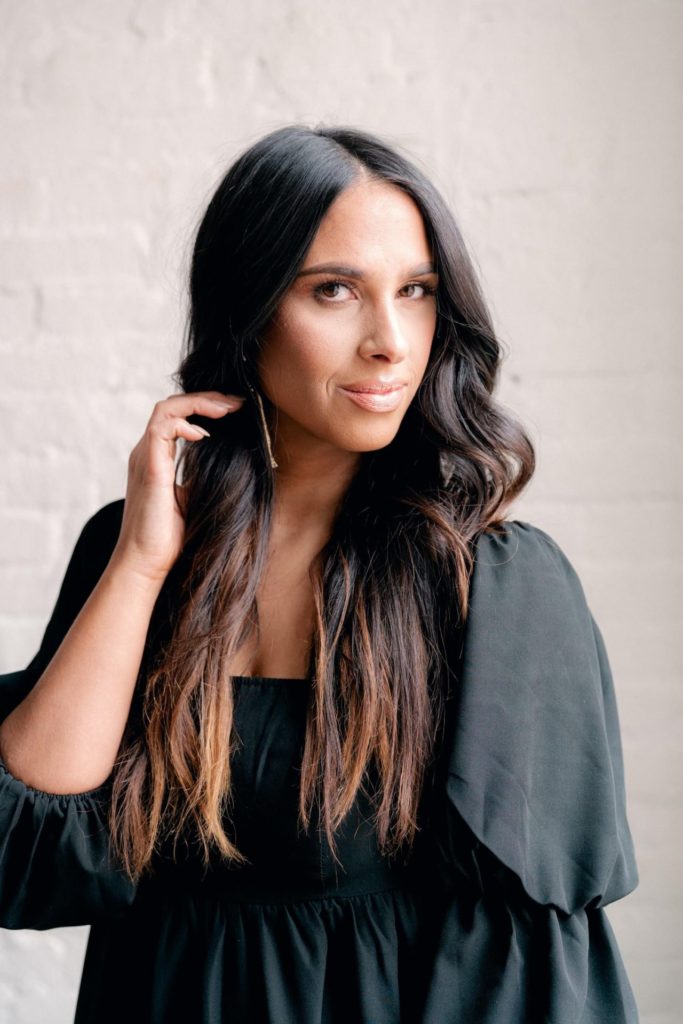 What inspired you to become a makeup artist and specialize in bridal makeup?
Growing up, I was always the "artist" of the family. I loved drawing, painting, and really just creating. I went to college at VCU and studied Fine Arts with a concentration in Painting and Printmaking. I loved my experience so much but knew that after college, I wanted to work in the beauty industry. This led me to MAC cosmetics shortly after graduation, where I really used my painting skills to achieve beauty for clients. After doing a few weddings for friends and family, I knew that bridal was for me. I love being able to connect with groups of women and men on such a special day, putting them at ease, and making them feel and look their absolute best!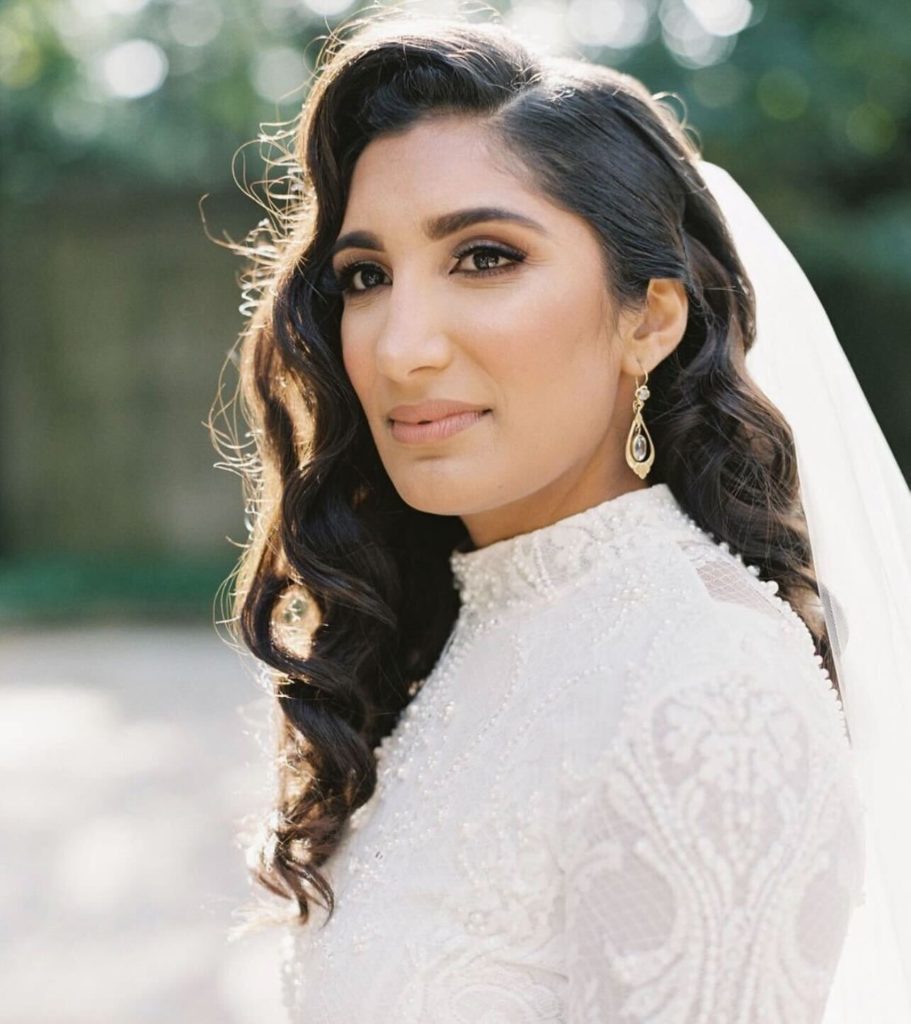 What are the essential skills and techniques that a makeup artist should have to be successful in the industry?
I think it's important to ALWAYS be learning from your peers. Even when you think you have mastered something, you can always tweak or improve. I love attending master classes, watching celebrity makeup artist videos, and I am constantly studying new products and trends. I also believe that customer service and making people feel comfortable and heard is a huge part of a successful makeup artist.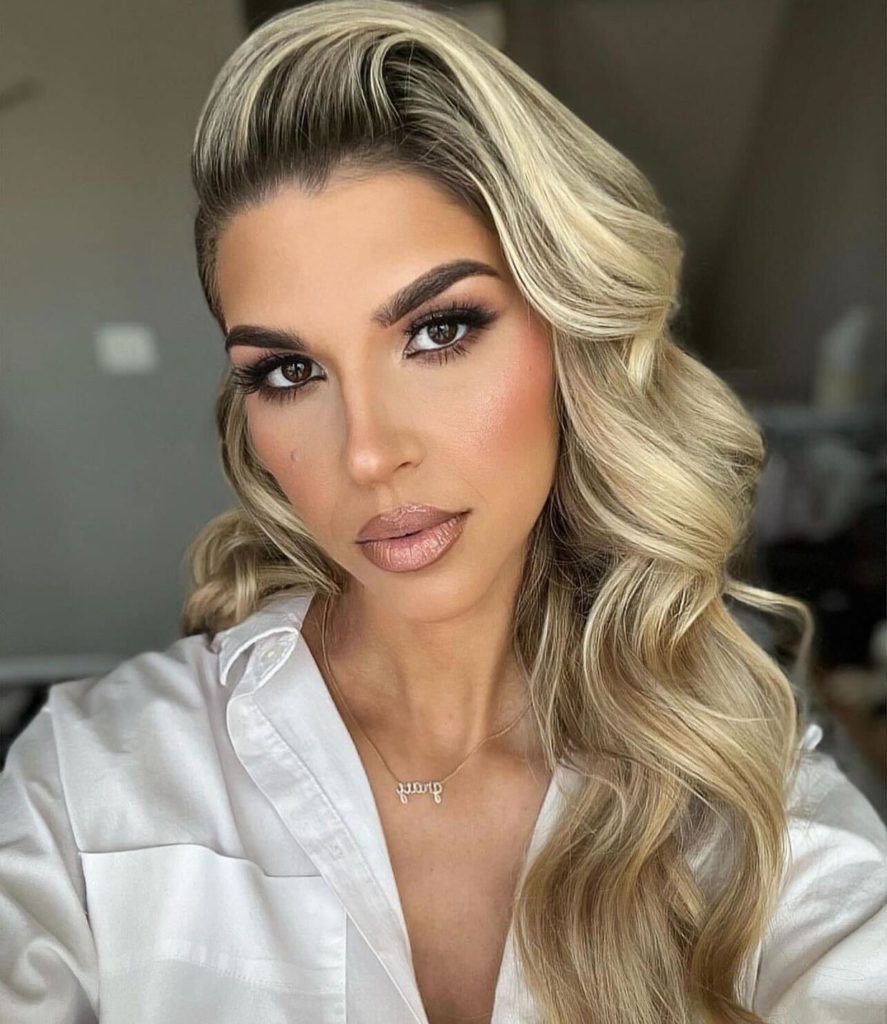 Can you share some tips on how to create a long-lasting bridal makeup look that can withstand the elements and the emotions of the day?
1.Prepping the skin with a really good moisturizer
2.Applying THIN layers of makeup to build your achieved look
3.Waterproof mascara always!
4.Setting with powder in problem areas
5.Heavy handed with the setting spray!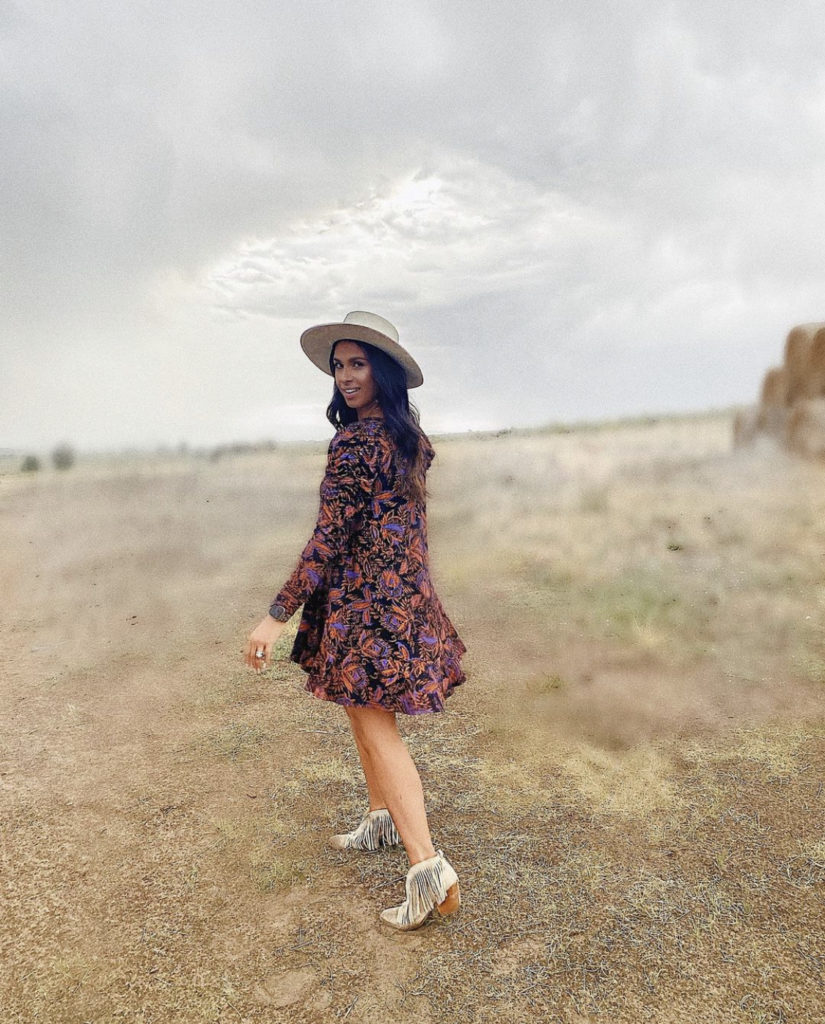 You and Ana have collaborated on many bridal looks, what have been some of your favorite memories of working together? How do you challenge each other to grow as artists?
Ana has really become an amazing friend and mentor to me. I can say without a doubt, every wedding we work together is truly my favorite. If I had to pick one, it would be traveling to Wyoming together for our bride, Hutton! It was such an incredible trip and really brought us closer as friends. Ana is one of the strongest business minded women I know. I am always learning from her and pushing myself out of my comfort zone when it comes to how to build my brand. She really provides amazing advice and I appreciate it so much. We also love to connect on products we love/hate and techniques we can work on!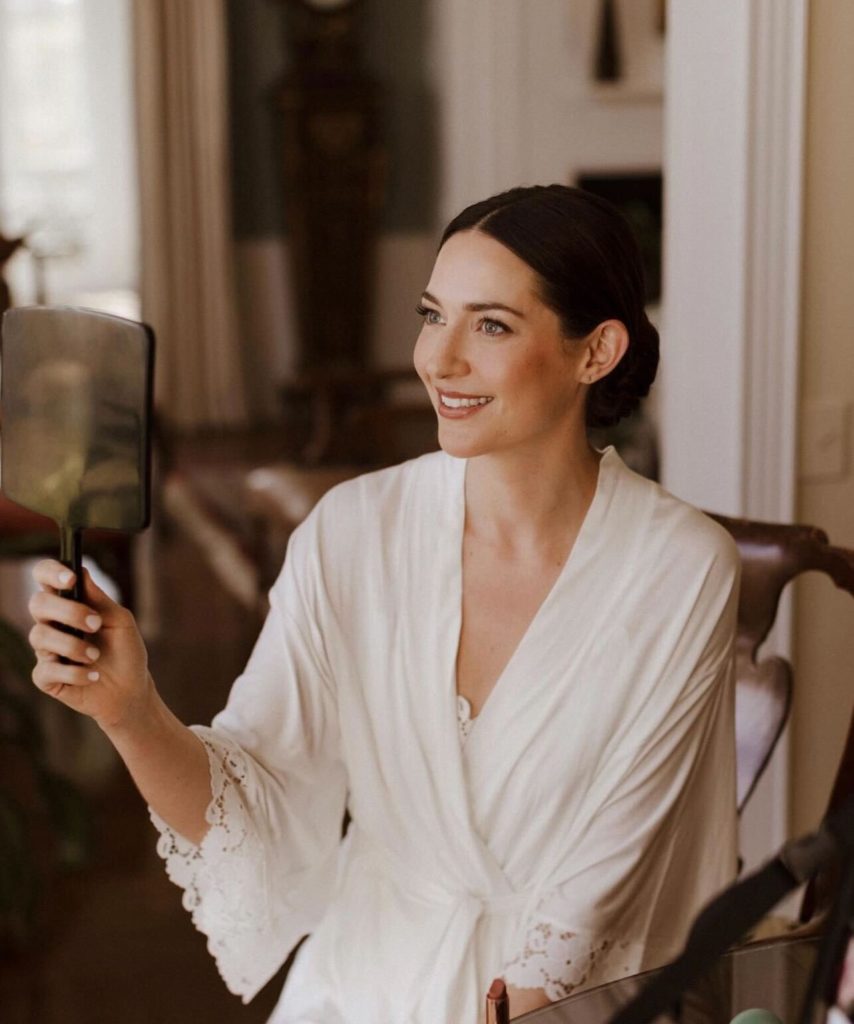 What are the latest trends in bridal makeup, and how can artists incorporate these into their work while still keeping their clients' individuality in mind?
The latest trends in makeup, in my opinion, is glowing skin and a "no makeup, makeup" look. I think it's really important to really listen to what your client wants and not what you think they want. Having a trial, asking a lot of questions, looking at a lot of inspo pics are all ways to achieve the client's dream makeup.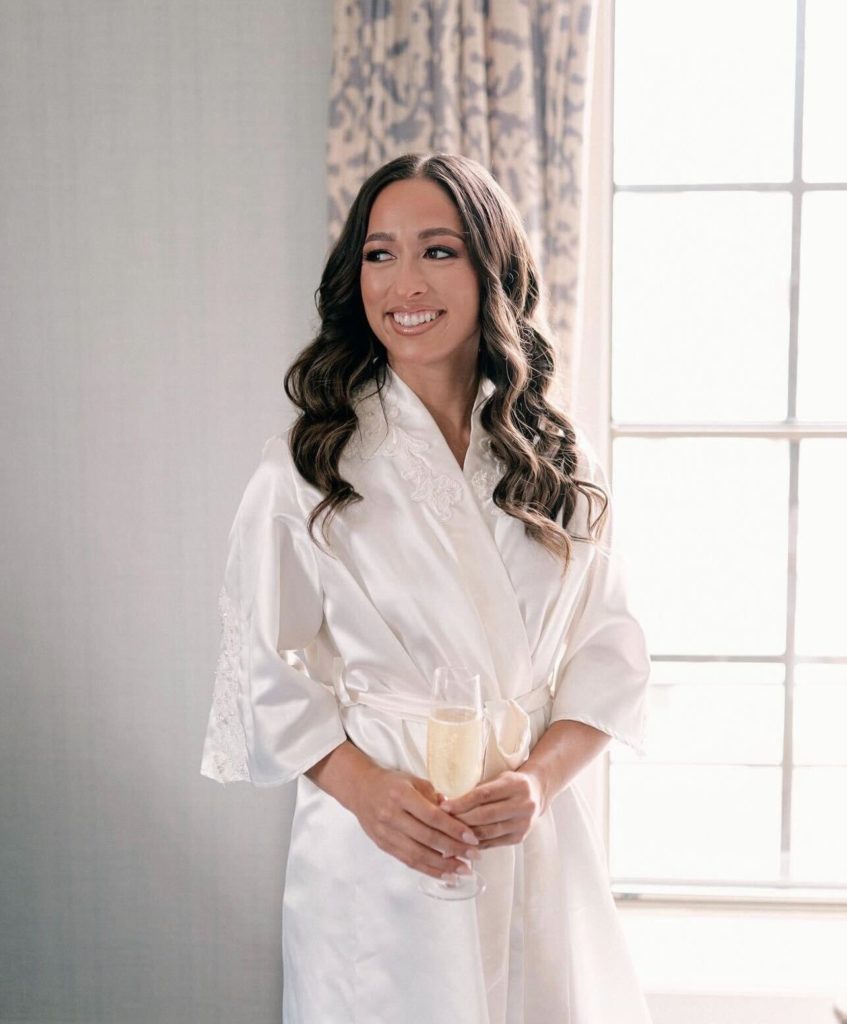 Can you recommend some must-have products that a makeup artist should have in their kit for bridal work?
Some of my favorite products that are always in my kit are:
–Embryolisse Lait Crème Concentré Daily Face and Body Cream – works great for moisture and primer together!
–NARS Natural radiant longwear foundations
– Too Faced born this way multi-use concealers
–Saie Beauty Cream bronzers
–Rare beauty cream blushes
–Charlotte Tilbury pillow talk eyeshadow palette
–Dior Highlighting palette – 001 is my holy grail!
–Mac lip liners
–Fenty glosses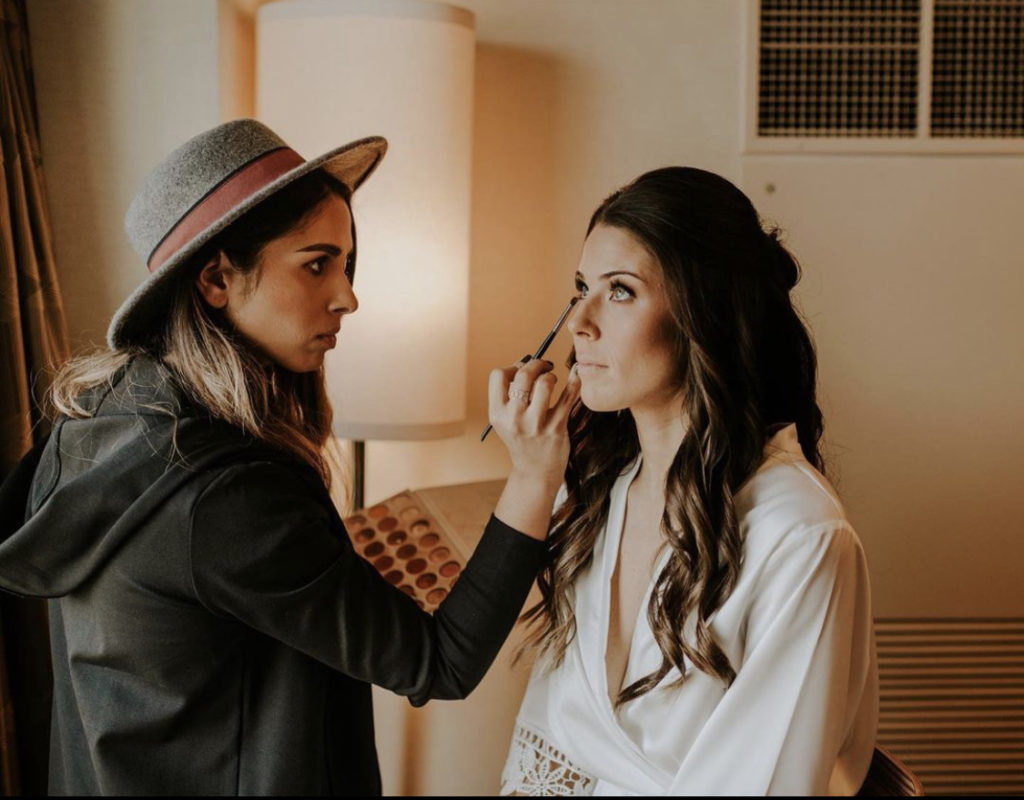 How can a new or aspiring makeup artist gain more experience in the bridal industry, and what are the benefits of attending a bridal makeup class?
New or aspiring makeup artists can gain experience by shadowing senior artist's weddings who have been in the industry for several years. This is something that can really help them to see what a "day in the life" looks like, show them time management with clients, and lastly how to speak to different clients to make them feel heard. I also think attending masterclasses, practicing looks on friends and family, and asking a LOT of questions can really help gain the experience they need to succeed in the industry. Lastly, networking with other artists and vendors can be an excellent way to gain rapport and make a name for yourself.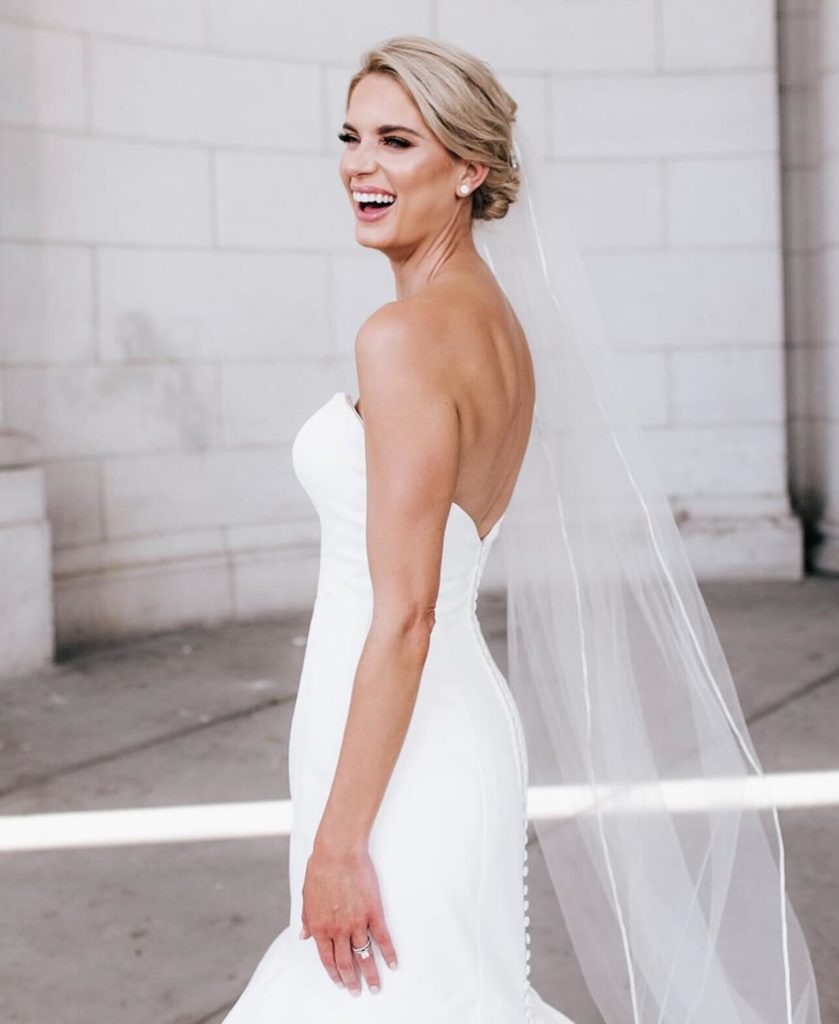 What do you think has made you so successful as an artist that other artists wanting to build their portfolio could learn from?
Be consistent with taking photos of everyone and everything! I am not great on social media but I know this can really be a game changer for newer artists.
What can attendees expect to learn and gain from your upcoming bridal makeup class?
By attending the upcoming bridal makeup class you can expect to learn about:
-Brows and how they make all the difference!
-Classic eyeshadow looks for brides (soft to more glam)
-Highlight and contour step by step
-Details that take your look to the next level
-Product recommendations and more!
---
Seats are limited for this amazing, career-changing class, so click here to invest in your future!
---
You might also like