'Tis the season to celebrate the creativity of beauty artists! In this holiday gift guide, we've curated a selection of thoughtful presents for those who weave magic with makeup brushes and transform hair into works of art. From high-quality tools to beauty essentials and a sought after class by artists, we've got you covered. Let's make this holiday season extra special for the beauty artist in your life. Unwrap the magic of gifting and spread joy!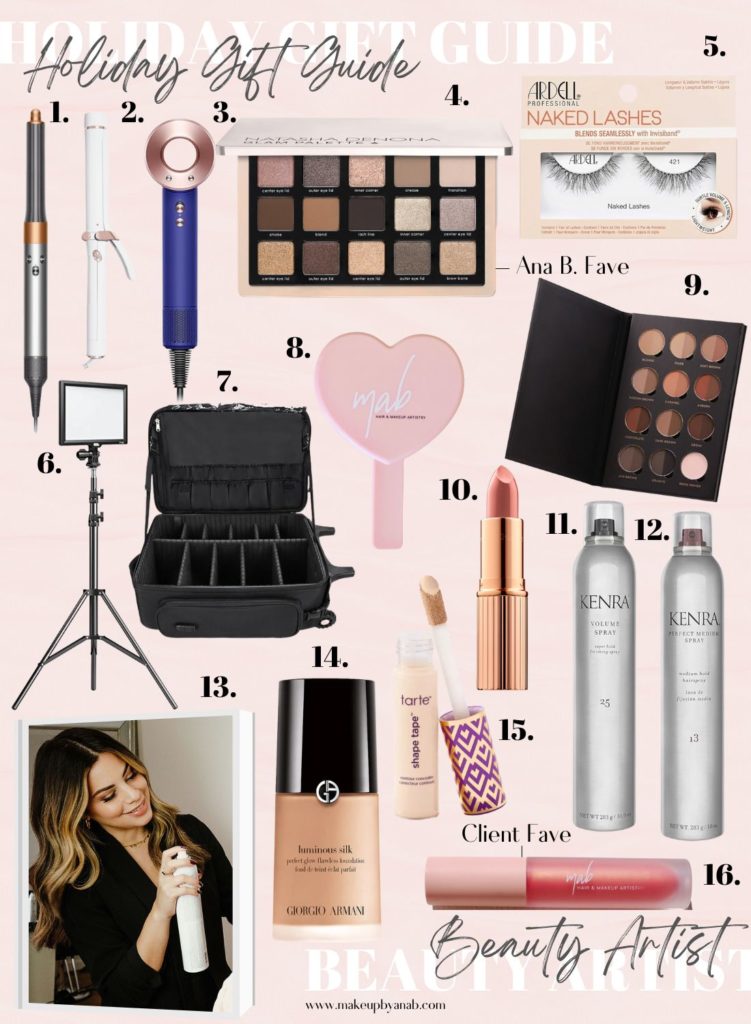 Shop the gifts:
one | two | three | four | five
six | seven | eight | nine | ten | eleven
twelve | thirteen | fourteen | fifteen | sixteen
Gift Guide Highlights
4.Unleash their creativity with the Natasha Denona Glam Eyeshadow Palette, a must-have for any beauty artist looking to craft stunning eye looks.
8.MAB Beauty Mirror, the perfect gift for the beauty artist in your life, ensuring every detail is flawless.
9.Anastasia Beverly Hills Brow Pro Palette is a must-have gift for the makeup artist in your life, helping them create perfectly sculpted brows for every client.
13.Give the gift of skill enhancement and creativity with a MAB Academy Hands-On Training Course, perfect for the beauty artist in your life to expand their expertise and craft.
14.Elevate their artistry with Armani Beauty Luminous Silk Oil-Free Foundation, a product that promises flawless canvases and endless creative possibilities for the beauty artist in your life.
16.Shine with the gift of MAB Beauty Lip Gloss, adding a touch of glam to the client's everyday look.
---
Have more people on your list to shop for this holiday season? Check out our full Holiday Gift Guides here!
---
You might also like