Moisturized skin is the canvas of every makeup masterpiece, and as makeup artists, we understand the importance of having the right products in our kit. In this Pro Series blog post, we're diving into the world of moisturizers, unveiling the top five must-haves that will elevate your artistry game. Get ready to discover the hydration heroes that will leave your clients' skin prepped, primed, and ready for makeup magic.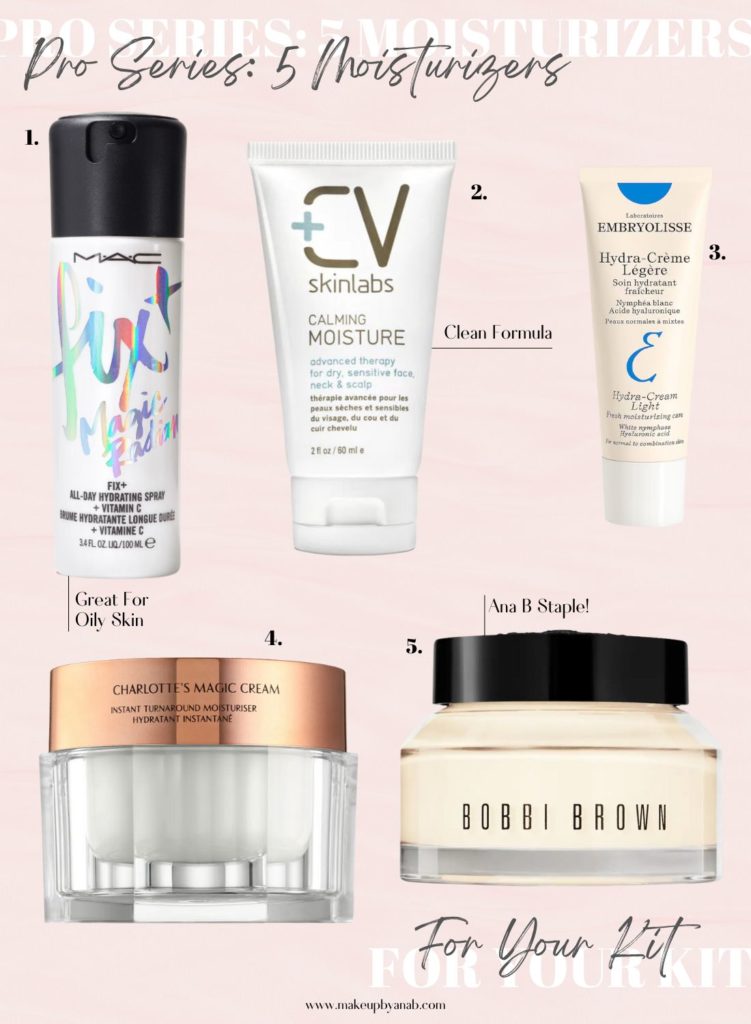 Shop the products:
one | two | three | four | five
1.MAC Fix+ Magic Radiance isn't your ordinary moisturizer; it's a multifaceted skincare essential for makeup artists. This hydrating mist not only primes and refreshes the skin but also imparts a luminous radiance, ensuring that your clients' complexions are prepped to perfection for makeup application.
2.+CV SkinLabs Calming Moisturizer is a makeup artist's secret for soothing and hydrating even the most sensitive skin. Its clean, non-irritating formula creates the perfect canvas for a flawless look.
3.Embryolisse Hydra-Cream Light is a makeup artist's go-to for lightweight yet intense hydration. Its fast-absorbing formula provides the ideal moisture balance, ensuring a smooth and long-lasting makeup application.
4.Charlotte Tilbury's Magic Cream is a must-have for makeup artists due to its transformative properties. This iconic moisturizer not only deeply hydrates but also primes the skin, creating a flawless canvas for makeup application, leaving clients looking radiant and refreshed.
5.Bobbi Brown's Vitamin Enriched Face Base Primer Moisturizer, Ana B.'s go-to moisturizer, is an indispensable addition to your makeup kit. It not only nourishes the skin with vitamins and shea butter but also acts as a perfect canvas for makeup, ensuring a smooth, hydrated, and long-lasting finish for your clients.
---
Sign up for the Academy Insider Newsletter to be the first to see all the latest blogs on how to grow as an artist and business!
---
You might also like